Sink or Float Science Exploration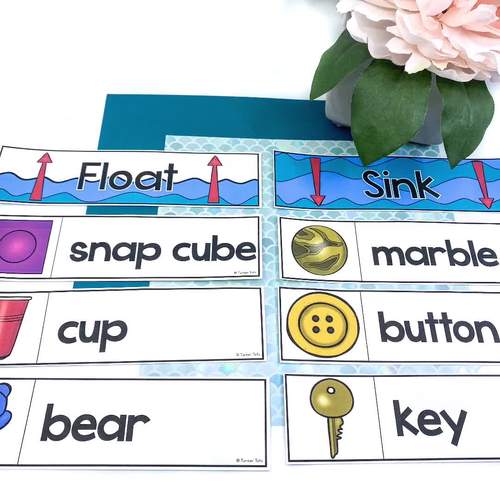 ;
Also included in
Get your tots swimming through the sea with these ocean math and literacy activities and ocean centers for preschoolers! These ocean activities are hands-on and engaging ways to learn preschool skills such as counting, non-standard measurement, letter identification, letter formation, rhyming words,

Price $16.40

Original Price $20.50

Save $4.10
Description
Which objects sink and which objects float? This science exploration is a great way for preschoolers to learn how our world works. Just gather materials (all objects you can find around your home/classroom) and test whether objects sink or float.
Add these cards as a visual sort in your science center. Each card comes with a picture and a word for students to easily sort on their own. Perfect water science activity for your ocean theme or anytime!
Don't forget to check out the rest of the activities in my discounted Ocean Activities for Preschoolers Bundle!
*Please help keep costs low by making sure your cart total is at least $3.00 to avoid credit card fees. Thanks!
Includes (both color and black & white):
Sink / Float headers
cards with objects to test (nail, orange, Lego, button, key, yarn, ball, leaf, crayon, eraser, pencil, coin, ping pong ball, bear counter, paper clip, marble, pompom, feather, glue cap, craft stick, cup, ice cube, snap cube, sponge, candle, stick, scissors, bottle)
blank cards
Materials needed for this activity:
tub with water
various objects to test
Optional: pocket charts
Check out more THEMED PRESCHOOL ACTIVITIES!
to receive 20% off all new products for the first 24 hours a new product is posted! Visit my store Turner Tots!
Let's connect! To see more preschool activities in action, check out:
If there is anything you need to make this resource work for your classroom, please e-mail me at . I would be happy to help with anything you need!
Report this resource to TPT