Slope Between 2 Points Partner Scavenger Hunt Activity - print and digital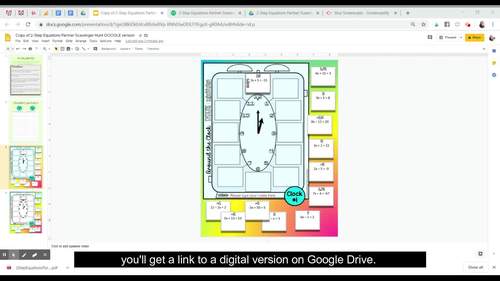 ;
PDF

Google Apps™
Includes Google Apps™
The Teacher-Author indicated this resource includes assets from Google Workspace (e.g. docs, slides, etc.).
Also included in
This big bundle includes both print and digital activities to reinforce and review slope. It includes a slope partner scavenger hunt, a whole class scavenger hunt, task cards, puzzles, a slope tree to decorate your classroom bulletin board, a slope challenge PowerPoint game, a slope digital math esc

Price $23.60

Original Price $44.50

Save $20.90

This bundle includes 24 activities for teaching, practicing and reviewing slope and algebraic functions. Also included is a set of Linear Equations Flippables for the slope, slope-intercept and point-slope equations. Many of the activities in this bundle have been updated with digital versions. Beca

Price $45.60

Original Price $88.50

Save $42.90

This bundle contains print and digital middle school math activities. Each activity inside comes in both forms. The digital versions are linked within the printable files and were built in either Google Slides or Google Forms, depending on which made sense for the activity. The Google Forms can be d

Price $36.00

Original Price $73.50

Save $37.50

Partner Scavenger Hunts are self-checking, even in print form, and get students working together. This bundle includes partner scavenger hunts for 8th grade math that can be assigned in print or digital form.Each partner gets a clock with 12 unique problems. Each partner's clock problems are differe

Price $22.40

Original Price $52.50

Save $30.10
Description
Students work in partners to find the slope between 2 points in this collaborative "Around the Clock" partner scavenger hunt algebra activity. Each partner gets a clock with 12 unique coordinate pairs. Each partner's coordinate pairs are different but the slopes between them are the same, encouraging collaboration and teamwork. If one student gets stuck, the other can help. If student answers differ, they work together to figure out the correct slope before moving on to the next problem.
The activity is self-checking, providing students with instant feedback. It includes a printable version, a digital version in GOOGLE Slides, student answer sheets and an answer key.
How the activity works:
Students paste their START slip at 12 o'clock, find the slope between the 2 coordinate pairs and find the slope on the top of another slip. They then paste this next slip at 1 o'clock and find the slope between the 2 coordinate pairs on that slip. Each answer students find will lead to the next problem to solve.
Students find the slopes between all 12 pairs of coordinates, pasting their slips along the way, until they get back to 12 o'clock. If all slopes have been found correctly, the answer from the problem at 11 o'clock will be at the top of their START slip.
*This activity can also be given to to complete. To use it this way, give each student one of the clocks. The activity is still self-checking. For the GOOGLE Slides version, make a copy of the activity and delete the second clock before sending to students.
See more Partner Scavenger Hunts here.
You may also like:
Slope Puzzle - print and digital
Report this resource to TPT
Standards
to see state-specific standards (only available in the US).
Construct a function to model a linear relationship between two quantities. Determine the rate of change and initial value of the function from a description of a relationship or from two (𝘹, 𝘺) values, including reading these from a table or from a graph. Interpret the rate of change and initial value of a linear function in terms of the situation it models, and in terms of its graph or a table of values.