Small Moment and Personal Narrative Unit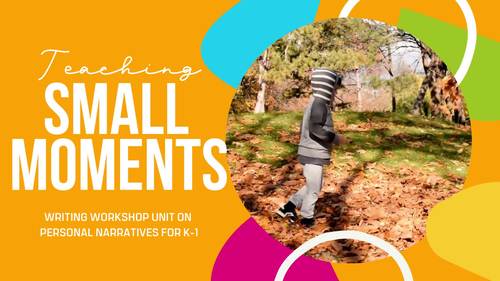 ;
What educators are saying
My students love the slides and it makes my job much easier. We can go back easily to review a lesson if someone is absent or needs to be online. This resource is very handy and professional.
This was perfect with helping my students narrow in on a small moment of their life and writing a story about just that small moment! Will use this EVERY year!
Also included in
Writers' Workshop is a great way to develop students love of writing. Through coaching, students learn to write for a variety of audiences and purposes. They also become more independent thinkers and problem-solvers.Who is This Bundle For? Teachers who need ideas to teach writers' workshop in the cl

Price $70.00

Original Price $98.45

Save $28.45
Description
Small Moment Writing Unit includes scripted mini lessons, plus bonus video lessons! This unit also includes tips, anchor charts and graphic organizers for small moments, personal narrative writing. It is also included in the K-1 Year Long Writing Bundle:
Click here and SAVE by buying ALL of my Writing Workshop Resources in 1 Bundle!
If you struggle with teaching writing with your students, this unit will help get you teach personal narratives and small moments. Grab your small moments anchor charts.
Plus, you can teach writing using a hybrid of traditional and virtual methods with your students! Perfect for distance learning.
Many teachers tell me they don't have the resources, support, time, or curriculum they need to teach writers workshop effectively.
They also tell me it is hard to get their young students to focus the writing in an organized way.
If you can relate to any of this, you are not alone, and this writing workshop unit is for you!
Whether you teach your students virtually, face-to-face, or a hybrid of both, I developed this unit to give you the confidence and support you need to launch your writer's workshop. 
In this unit, you will find the following: 
Forms for conferencing, assessments, and sharing
Detailed lessons to help you get started with teaching small moments
Several options for writing paper and graphic organizers
Small Moments Checklist and Bookmarks
Anchor chart for zooming in on small moments
Example of anchor chart and small moment booklet
Pencil Rubric Chart
Links to already created Seesaw lessons, click and add to your Seesaw library
Made FOR YOU VIDEO LESSONS for workshop lessons in Seesaw
Lessons Included:
Using Personal Narratives as Mentor Texts
Zoom into Small Moments
Writing Beginning, Middle, and End
Examine the Actions of a Character
Examine the Feelings of a Character
Examine the Setting of the Story
Drawing Pictures Across the Story
Adding Labels and Speech Bubbles to Pictures
Revise and Editing Stories
Publishing the Story for an Audience
Why You Can No Longer Afford To Ignore Writing Instruction In Your Classroom
Teaching writing is the best way to help your students learn to read
Writing is a great way to teach students to think critically and reflect on their learning
Add technology to the mix and writing will be your students favorite part of the day
Aligned to:
Common Core State Standards
Grab it today, and don't forget that leaving feedback earns you points toward FREE TPT purchases. I love to hear your feedback!
Also, follow me and be notified when new products are uploaded. New products are always 50% off for the first 24 hours posted. It pays to follow me!
As always, please contact me with any questions!
Thank you so much,
Jen Kimbrell
Tech with Jen
Teaching Duration
1 month
Report this resource to TPT
Standards
to see state-specific standards (only available in the US).
Write narratives to develop real or imagined experiences or events using effective technique, well-chosen details, and well-structured event sequences.
Produce clear and coherent writing in which the development, organization, and style are appropriate to task, purpose, and audience.
Develop and strengthen writing as needed by planning, revising, editing, rewriting, or trying a new approach.
Use technology, including the Internet, to produce and publish writing and to interact and collaborate with others.
Write routinely over extended time frames (time for research, reflection, and revision) and shorter time frames (a single sitting or a day or two) for a range of tasks, purposes, and audiences.