Snowman Lesson Plans For Push-In Language Therapy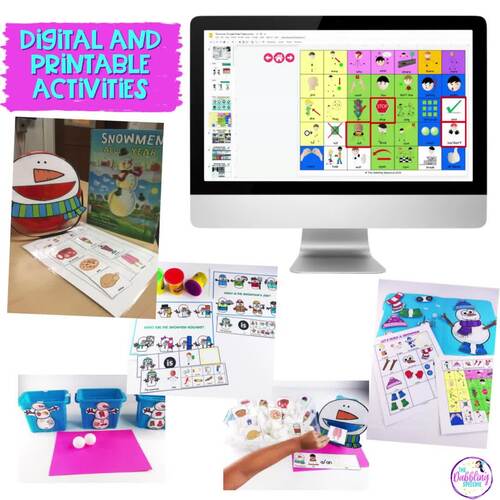 ;
What educators are saying
This resource is great! I've been able to use it with lots of different ages, and target so many goals. Thanks Felice!
Thank you for such awesome activities. My therapy is flowing and kids are engaged. Love the themes.
Also included in
If you are a school-based SLP wanting to reduce stress by creating push-in speech therapy lesson plans for your Prek-2nd grade caseload, you need to invest in this themed therapy push-in speech therapy lesson plans that target a LOT of language skills. Lily wanted lesson plan speech therapy activiti

Price $83.20

Original Price $104.00

Save $20.80
Description
Planning winter speech therapy activities became more manageable with these snowman lesson plans for push-in therapy or small groups!
Melissa J. said, "Push in lessons are the best bang for you buck resource out there. Multiple goals can be targeted as well as used with students who need varying levels of support. I have used the push in lessons both in the classrooms and in pull out sessions. I also have used the lessons with preschoolers all the way to 4th graders."
Are you a school-based SLP that works with K-2 students that have language impairments? Do you like to go into the Special Education classroom to provide push-in language support? If you said, "yes" to these questions, then these Snowman Lesson Plans for Push-In Language Therapy will support the busy speech pathologist in the following ways:
❤️ Save time speech therapy lesson planning
❤️ Increase student engagement during the lesson
❤️ Help the classroom teacher learn how to implement language during the academic school day
❤️ Target your student's goals
The language activities in this set include tips and tricks for how to do push-in speech therapy. There is a cheat sheet guide with recommended books (YouTube read-aloud or amazon links), links to themed movement videos, and 3-5 extension activities to do in small group workstations. The cheat sheet lesson plan guide links to the common core standards the activities are targeting.

A Snowman Google Slide presentation on a Smartboard or laptop that targets wh-questions, vocabulary, and grammar concepts is included.
Not able to do push-in therapy but love using themed therapy language activities? SLPs can still use the snowman activities in small group sessions!
You won't regret grabbing this resource if you serve a wide range of goals and ages.
See what Erica O. said, "These push-in resources are AMAZING! They provide everything you need for weeks worth of engaging activities for a wide variety of students and needs. I use this both in my multiple disability classroom and with my lower elementary caseload with some minor modifications. There is never a shortage of ideas and the resource could be used year after year without getting old."
These activities are aligned with the language and speaking and listening common core standards. Although it is designed for speech pathologists, SPED and General Education Teachers can also use this resource in the classroom.

Snowman Activities Included in This Resource:
⭐How to use these lessons in the classroom and a small group.
⭐Tips and tricks for doing push-in speech & language support in the classroom.
⭐Blank lesson plan template (2 versions) to fill out before the push-in lesson. Fill out with the teacher if you have collaboration time. A digital copy is included on Google Slides to edit and share with the teacher.
⭐Snowman theme parent newsletter about additional language activities to support the snowman theme.
⭐Snowman Push-In Lesson Cheat Sheet – A digital version is included in the google slides (fonts: KG Primary Penmanship).
⭐Snowman lesson plans with toys and materials you have around your speech room
⭐Snowman life cycle visual supports to discuss the life cycle of a snowman
⭐Snowman printables for sensory, bowling pins, and hiding around the room
⭐Cheatsheet instructions for instructional aides and teachers for the snowmen playdough mats and build a snowman file folder activity.
⭐Snowman playdough mats with visual sentence frames and data collection sheets.
⭐Build a snowman file folder activity with printable items, CORE boards, and visual support.
⭐Feed the snowman sensory bin with visual supports, visual sentence frames, and sorting mats.
⭐Snowman category tennis table ball game or tape the snowman on a poster board. Use a snowman popper to work on vocabulary and category groups.
⭐Cheatsheet instructions for instructional aides and teachers to feed the snowman sensory bin and the snowman category table tennis ball game.
⭐Who has the snowman's hat? Wh-question game with printables and sentence frames.
⭐Snowman preposition activity with sentence frames.
⭐Cheatsheet for instructional aides and teachers for Who has the snowman's hat? game and the snowman preposition activity.
⭐Google slides: Included in this lesson plan is a .digital google slide that allows students to practice answering wh-questions, learn how to build a snowman and generate sentences about snowmen.
⭐ Lesson plan for doing the paper plate snowman craft with Google Slide presentation for step-by-step visual instructions and visual support for sequencing.
⭐ Snowman snowball fight activity to work on verbs, "what" questions, and describing

Need more themed push-in language activities? Here are some more themes that will help you save time planning:

Fall/Autumn PUSH-IN Language Lesson Plan Guide for SLPs
Pirate Themed PUSH-IN Language Lesson Plan Guides For SLPs
Beach Themed Push-In Language Lesson Guide
Camping Themed Push-In Language Lesson Plan Guide
Ice Cream Themed Push-In Language Lesson Plan Guide
Back To School Push-In Language Lesson Plan Guide
Apple Themed Push-In Language Lesson Plan Guide
Squirrel PUSH-IN Language Lesson Plan Guides
Summer Themed PUSH-IN Language Lesson Plan Guides
Spring Themed PUSH-IN Language Lesson Plan Guide
Winter Themed PUSH-IN Language Lesson Plan Guides
Gingerbread Man PUSH-IN Language Lesson Plan Guides
Seasonal PUSH-IN Language Lesson Plan Guides BUNDLE

Holiday Themed Speech & Language Activities that make lesson planning quick and therapy fun!

• Articulation 3D Christmas Tree Craft
• Christmas Themed Vocabulary & Grammar Activities
• What Does The Fox Say Speech & Language Mega Bundle
• Speech & Language ORNAMENTS Craftivity
• Snowman Craftivity For Speech & Language


Try this free winter vocabulary ornament craftivity with your students!

• Winter Vocabulary Ornament Craftivity FREE bonus lesson
**************Stay Connected With Me***********************
★BLOG ★NEWSLETTER ★FACEBOOK ★INSTAGRAM ★PINTEREST
If you have any questions, please email me at feliceclark@thedabblingspeechie.com
Report this resource to TPT