Soccer PE lessons - Sport unit with plans, drills, skills & games for grades 3-6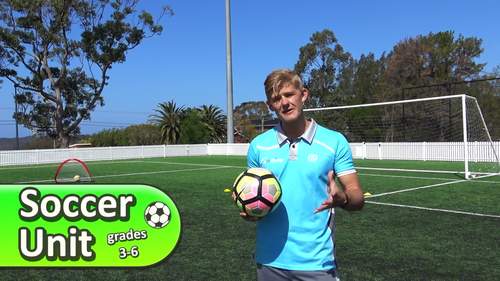 ;
What educators are saying
These lesson are well detailed and easy to use. I love that I can feel confident enough to leave these plans with a sub!
This package is a homerun! My first year teaching gym and this takes the planning completely out of my hands.
Also included in
In this bundle you'll get our 3 complete sport specific units: Soccer | Basketball | Volleyball - You'll be equipped and so confident to teach these sports with ease to your grade 3-6 classesSave $$$ on this PE & gym teaching bundle now!WHY DO I NEED THIS AWESOME BUNDLE?If you need instant, read

Price $35.00

Original Price $43.97

Save $8.97

I've put together a bundle of the resources I've made, available here so you can purchase everything in one go with big savings! AND, when I add new resources to this bundle, you have access to them for free, without any additional purchases needed!In this bundle you'll get:(Grades K-3)• Kindy-Grade

Price $250.00

Original Price $278.67

Save $28.67
Description
› Over 45 PE soccer skill ideas, drills, ball work and games, and 6 X weekly pre-planned lessons to develop your classes' sport skills...The Elementary grades 3-6 Soccer pack has everything you need to teach!
WHY DO I NEED THIS SOCCER PACK?
If you want to take your P.E lessons to the next level, this soccer sports resource is the best place to start. You'll give your students a fantastic opportunity to develop with soccer and sporting ability – and turn the simple game into an engaging and exciting sport class. You don't need to know it all about soccer, you just need these easy-to-teach, tried and tested lesson ideas:
1. Over 45 of the best soccer plans
You'll be so confident and fully equipped with these amazingly straight-forward to teach activities:
• Warm-up games › Simple games to get your lesson kick-started
• Ball work plans › Specific skills to work on in pairs
• Drills › Different game situations to progress the skills
• Modified games › Adapted team games using the skills
• Skill stations › Individual skill/task stations to rotate around
• Relays › Competitive (and/or) practice tasks to complete as a team
2. 6 X hour-long lesson plans
There's so much content here for you to pick and choose from, taking away all that stressful planning time for PE! If you need a guide, we've put together 6 structured sessions (put together from the activities) as an example for you to use straight away.
You'll also receive an assessment sheet with the grading rationale - Each skill element is clearly defined with a straightforward grading system. Each ability level is determined by the control of the ball and technical parts of the skill.
››› This pack is PERFECT for you if you want to build your practical knowledge and create an opportunity for you kids to grow and develop, whether it be in the sports hall or out on the field! We've done all the hard work so you don't have to, and your class will get so excited for their next PE lesson each week.
• Note: I've just created a new printable basketball task cards pack, check it out here
OTHER AWESOME GRADE 3-6 PE lessons
Make sure you also check out:
› PE Team Games pack - Complete with 21 thrilling games that your kids will love, developing not only their sporting skills but also their co-operation, teamwork and leadership skills.
› PE Skill Stations pack › 50 fun sport activities for pairs to develop their basketball, soccer, baseball, hockey, American football and other skills.
› Basketball Unit pack - Coach-grade basketball lesson plans, skills, games, stations and more, your kids will love learning the fundamentals of basketball, whilst developing their teamwork, leadership and gross-motor skills.
› Fitness Circuits pack - 36 printable station cards (+ online video instructions) to cover the 6 components of fitness necessary to keep your students healthy and active: Core, flexibility & balance, stamina, leg strength, arm strength, and whole body exercise.
› Volleyball unit - Everything you need to teach all the core volleyball skills from the beginning and turn them into sport stars!
› Individual Equipment Challenges pack: 42 printable task cards for unique & specific activities to work through individually.
› Warming up & Stretching task cards: 41 warming up & stretching exercise cards
› Learn Math through Sport (Grade 3) - 5 integrative PE lessons that include the key math subjects - Complete with worksheets, score sheets, and 'how-to-play' videos.
• My NEW Youtube channel has weekly videos for simple ideas, drills + skills to show your students, click HERE to check it out!
• Check out the Prime Coaching website for loads of great ideas, drills, games, and instructional content on teaching PE!
Any questions and further support at danny@primecoachingsport.com
Teaching Duration
1 Semester
Report this resource to TPT