Social Emotional Learning Activities and Overview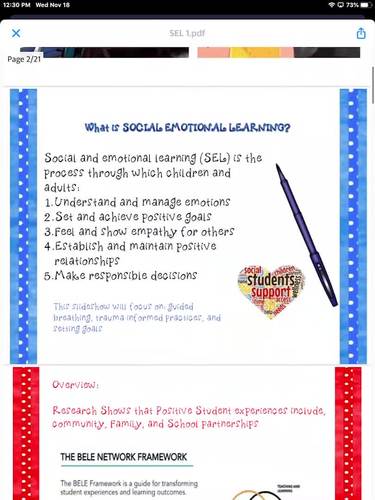 ;
Also included in
Social emotional learning activities curriculum soon to be mandatory, will force teachers to hit the ground running. With everything on teachers' plates, this can be a daunting task. This comprehensive package will help support and make this process easy for you. Featured:OverviewMultiple activities

Price $20.47

Original Price $22.74

Save $2.27

Social Emotional Learning will soon be mandatory, and teachers will need to hit the ground running. With everything on teachers' plates, this can sound like a daunting task. This comprehensive package will help support and make the process easy for you. Social Emotional Learning is when both adults

Price $175.00

Original Price $221.91

Save $46.91
Description
This resource will engage your students and make your life easier! This 21-page slide show with multiple lessons will cover your Social Emotional Learning. There is an overview of SEL, goals, breathing exercises, trauma informed strategies, and activities in this product.
Featured:
Overview of SEL
CASEL Framework
Goals to meet SEL requirements
Breathing exercises
Trauma informed instruction strategies such as: Self-Soothing through sight, sound, smell, touch, texture; Gratitude cards; and IMPROVE: Imagery, Meaning, Relaxation, One-Mindfully, Vacation, and Encouragement
The lesson includes a combination of DBT, Cognitive behavioral therapy, and distress tolerance.
To revisit my store, click:
*********************************************************************************************************
Related Products
⭐ Social Emotional Learning Activities and Overview
⭐ Social Emotional Learning Activities and Overview
⭐ Social Emotional Learning Curriculum
⭐ Social Emotional Learning Unit Activities
⭐ Social Emotional Learning: One Year
Product keywords: Social emotional learning, social emotional learning lesson, lesson for social emotional learning, curriculum for social emotional learning, less plan for social emotional learning, social emotional learning lesson plan, social emotional learning unit, social emotional learning unit plan, unit plan for social emotional learning, unit for social emotional learning
To visit my Teacher for Inclusion blog, please click HERE
Report this resource to TPT