Social Emotional Learning Brochures 3rd-7th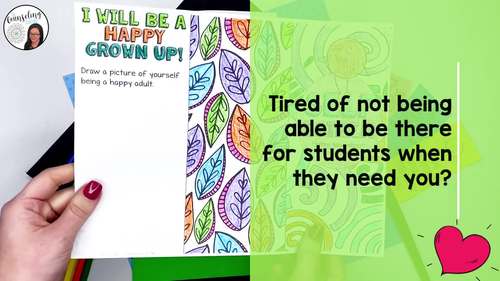 ;
Products in this Bundle (33)
showing 1-5 of 33 products
Also included in
Great for new Upper Elementary School Counselors and Veteran Counselors looking for a program refresh. This bundle includes 57 of the best resources that will save you time and give your program a complete makeover. You will get an entire year full of engaging activities and lessons to help you serv

Price $143.85

Original Price $205.50

Save $61.65
Description
Social Emotional Learning activities are the heart and soul of an effective School Counseling Program. This bundle delivers easy to understand SEL curriculum in the form of 31 tri-fold brochures that are packed with information and coping strategies for common social and emotional learning topics. Students read, color and fill out the interactive sections. Even when you are unavailable, these brochures are there to fill in the gap and support students until you return. This ASCA-aligned resource builds self-awareness, relationship skills, social awareness, self-management, and decision-making skills.
Showcase them so that everyone knows all of the ways you support them!
You can display them using a variety of materials:
over the door shoe organizer
acrylic holders
magazine rack
book shelf
file folders on a rack
bulletin boards
They are so versatile that you can use them in classroom lessons, for small groups or grab and go individual needs. You can set them out during open house to showcase the many ways you support students. (See the reviews to see what hundreds of buyers are saying.)
*** You are saving over 30% by purchasing the bundle. ***
Already own some of these but want the bundle?
Contact TPT support for a refund for the ones you already own.
Each topic includes a double sided tri-fold brochure, coloring pages, and bookmarks.
Anxiety / Worry (plus bonus Fall Themed version):
Students learn coping skills for anxiety and worry.
Friendships:
Students will work on friendship skills and learn the difference between healthy and unhealthy friends.
Emotions:
Students will build their emotional intelligence by reviewing feelings vocabulary words and how they affect the body.
Growth Mindset (plus bonus Fall Themed version):
Students will learn the difference between a growth mindset and a fixed mindset and apply it to their own lives.
Self-Control:
Students learn to reduce stress through the circle of control and other examples.
Self-Esteem:
Students learn to build their confidence by finding their strengths and reviewing the habits of people with high self esteem.
Anger:
Students work on anger management activities and review tips for coping skills for anger.
Bullying:
Students review ways to react, report and define bullying.
Test Prep:
Students learn coping skills for test anxiety and how to confidently prepare for upcoming tests including test-taking strategies.
SMART Goals:
Students create specific, measurable, attainable, relevant and timely goals and how to make goal setting a habit for their academic success.
Personal Hygiene:
Students review healthy hygiene habits including a list of helpful hygiene products for kids and tweens.
Divorce:
Students learn to navigate family changes and tips for using their voice to express their needs to others.
Grief:
Students learn to face their emotions and work through the feelings associated with grief and loss.
Diversity:
Students work on celebrating differences and appreciating the things that make everyone unique through empathy-building activities.
Coping Skills:
Students work on coping skills for overwhelming feelings that can be used daily and throughout life.
Respect:
Students learn to respect self, others and things/property.
Giving an Apology:
Students work on their apology skills with an easy to follow template.
Gratitude:
Students learn the health benefits of gratitude and how to apply it to their daily life.
Good Choices for a Healthy Life:
Students assess their current choices and discover a long list of healthy life choices that they can begin to use in their daily life.
Teasing:
Students distinguish between playful and hurtful teasing.
Breathing Strategies:
Students practice easy to follow breathing strategies that they can use when they are angry, sad or overwhelmed.
Automatic Negative Thoughts:
Students define automatic negative thoughts and learn to use coping strategies and positive self-talk to challenge and overcome them.
Social Skills:
Students review basic social skills through scenarios and examples.
I-statements for conflict resolution:
Students learn how to manage conflict by using i-messages through role-play and example scenarios.
Empathy:
Students practice empathy building skills.
Confidence & "Comparison is the Thief of Joy":
Students work on self-confidence by learning to compare their own progress, rather than comparing to the progress of others.
Healthy Boundaries with Peers and Family:
Students learn to create boundaries that protect their mental health without hurting their relationships with others.
Writing Thank You Letters to Heroes (Gratitude in Action):
Students use a thank you letter template and review helpful gratitude vocabulary words to create thoughtful letters for a hero.
Body Positivity:
Students work on self-compassion in regards to their physical appearance and develop empathy for others because all bodies are worthy.
---Also great for home-school families! Add SEL to your home curriculum.---
* Please Note *
Counselors/Specialists:
You are purchasing a license for one School Counselor to use with the students you serve only. If you want other Counselors to use these, you will need to purchase an additional license for them. (You do not need to purchase additional licenses for teachers. You are covered for all the teachers that have your students in their classes.)
Teacher User:
You are purchasing a license for your classes/students only. If other teachers use these, they will need to purchase an additional license.
Questions? email brandy@thecounselingteacher.com
================================================================

High School Version: (Middle Schoolers can use the 3-8th or high school version)
K-2 Version:
• Social Emotional Learning Brochures K-2

Other Brochures not included in this bundle:
• Meet the School Counselor Brochure
• New Student Group Welcome Brochure Grades 1-4
Report this resource to TPT