Social Emotional Learning Brochures K-8 Bundle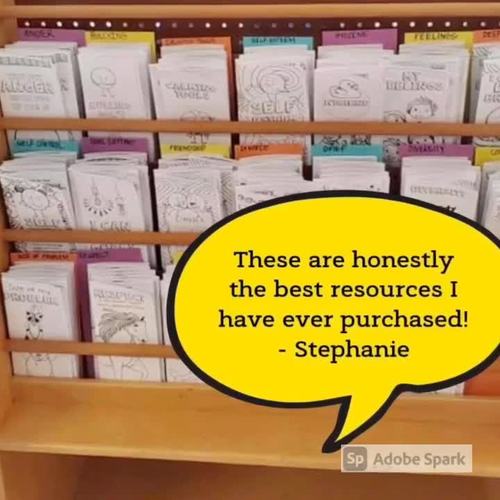 ;
What educators are saying
Buy the bundle! So well used, great to be able to give students (or parents) something to read and talk about. Thank you.
I use these brochures to put outside my office door. Students come to see me frequently, so if I'm working with someone else or I'm out of the office, they can take what they need! Perfect.
Products in this Bundle (64)
showing 1-5 of 64 products
Description
These interactive tri-fold brochures include 29 important social emotional learning topics to use all year. Elementary and middle school versions are included. You can have a grab and go counseling curriculum for the entire year for all of your individual, small group, whole-classroom lessons and parental support needs.
*You are saving over 33% by purchasing the bundle!
This is the K-2 version and the 3rd-8th versions bundled into one big bundle.
In addition to the tri-fold brochures, each topic includes multiple bookmarks and coloring pages that can have a variety of uses.

Already own some of these but want the bundle?
Contact TPT support for a refund for the ones you already own.
Don't need K-2 AND 3rd-8th? You can purchase the smaller bundles:
29 Topics:
(Includes Elementary and Middle School versions of each one)
❤️ Anxiety / Worry: coping with stress and navigating overwhelming feelings with coping strategies
❤️ Friendships: understanding healthy vs unhealthy friendship behaviors
❤️ Emotions: building feelings vocabulary and implementing coping skills
❤️ Growth Mindset: empowering students to think in a proactive way for maximizing student success
❤️ Self-Control: using the circles of control to empower self control
❤️ Self-Esteem: positive self talk activities and habits of people with high self esteem
❤️ Anger: managing feelings using anger-management strategies
❤️ Bullying: understanding common behaviors of bullies and how to respond and report
❤️ Test Prep: study skills and test-taking strategies for preparing before testw
❤️ SMART Goals: creating goals that are specific, measurable, attainable, relevant and timely
❤️ Personal Hygiene: building healthy hygiene habits with easy tips
❤️ Divorce: navigating family changes
❤️ Grief: empowering students to face their feelings and continue after a death
❤️ Gratitude: learning to be thankful for the little things and the big things
❤️ Diversity: becoming better humans and celebrating differences
❤️ Coping Skills: strategies for overwhelming feelings to use daily
❤️ Respect: learning to respect people, places and self.
❤️ Giving an Apology: how to give a sincere apology
❤️ Good Choices: Tips for making healthy choices
❤️ Teasing: students learn the difference in playful vs harmful teasing
❤️ Breathing Strategies: mindful exercises to regulate breathing
❤️ Automatic Negative Thoughts: students learn to flip their intrusive, unhelpful thoughts
❤️ Social Skills: basic skills for communicating and responding to peers
❤️ I-Messages: using i-statements for conflict resolution
❤️ Empathy: learning to understand what it's like to be in someone else's shoes
❤️ Confidence & "Comparison is the Thief of Joy": Learning to focus on oneself instead of others
❤️ Setting Healthy Boundaries with Peers and Family: Tips for setting and maintaining boundaries for improved relationships and mental health
❤️ Writing Thank You Letters to Heroes: a formula for a thoughtful, thankful, and friendly letter
❤️ Body Positivity: learning to appreciate all body types and develop a sense of self-compassion
Bonus holiday themed versions included for some topics.

Report this resource to TPT