Social Emotional Learning Curriculum BUNDLE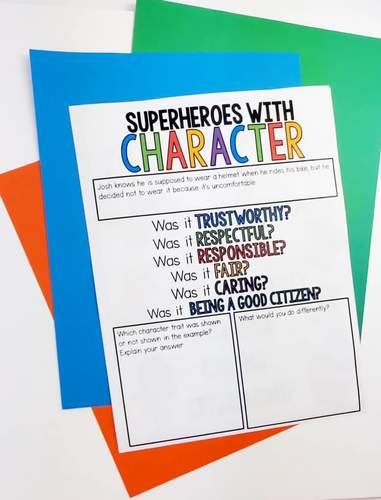 ;
Zip

Google Apps™

Internet Activities
Includes Google Apps™
This bundle contains one or more resources with Google apps (e.g. docs, slides, etc.).
Easel Activities Included
Some resources in this bundle include ready-to-use interactive activities that students can complete on any device. 
Easel by TPT is free to use!
Learn more
.
Products in this Bundle (5)
Description
SEL curriculum bundle including all 5 competencies: Self-Awareness, Relationship Skills, Self-Management, Responsible Decision Making, and Social Awareness. Includes a digital version for use with Google Slides.
Each Curriculum Includes:
►Activity description including instructions/walk-through of activity, objectives, materials, guiding questions, SEL competencies, and ASCA standards.
►Description of what each topic means and what it does not mean (Impulse control is...and is not)
►Black and White version included.
►Google Slides version included.
►Intro to the Superhero that covers the competency.
✨Gabby the Social Awareness Superhero.
✨Darren the Self-Management Superhero.
✨Caleb the Responsible Decision-Making Superhero.
✨Rachel the Self-Awareness Superhero.
✨Lucas the Relationship Skills Superhero.
►2 activities per topic, 50 activities in total.
⭐Self-Management:
Impulse Control: Impulse Shield, Stop Light Thinking.
Stress Management: Signs of Stress, Super Coping Skills.
Self-Discipline: Stress Levels, Stay on Course.
Self-Motivation: Growth Mindset, Find the Motivation.
Goal Setting: Goal Setting Superheroes, SMART goals.
Organizational Skills: Superhero Tools, Web of Organization.
⭐Social Awareness:
Perspective-taking: Resolving conflicts between Superheroes, Perspective Glasses.
Empathy: It's hard to be a Superhero, Empathy Mask.
Appreciating Diversity: Diverse Superhero social profiles, What I bring to the team.
Respect for others: Create your own superhero, Recognizing Respect.
⭐Relationship Skills:
Communication: Active Listening, Communication wonders and blunders.
Social Engagement: S.L.A.N.T., Conversations with Superheroes.
Relationship Building: Friendship rescue, Demeanor meter.
Teamwork: Build your superhero team, Find a compromise.
⭐Self-Awareness:
Identifying emotions: Super Emotions, Control your Emotions.
Accurate Self-perception: Who I am behind the mask, Hidden Superpowers.
Recognizing Strengths: Superpower Strengths, Super Improvements.
Self-confidence: I'm a Superhero, Building Confidence.
Self-efficacy: Cape of Capability, Overcoming Adversity.
⭐Responsible Decision-Making:
Identifying Problems: Problem Search, Problem or Not a problem?
Analyzing Situations: Types of Problem Solving, Problem Solving Road Blocks.
Solving Problems: SODAS (Conflict Resolution Method), Traveling from Problem to Solution (using I messages).
Evaluating: Evaluate the outcome, Grade the Superhero.
Reflecting: Mirror Reflecting, Super Mindfulness.
Ethical Responsibility: Superheros with Character, What Responsibility means to me.
▶️Where can I find the google classroom link?
Google slides link and instructions are on the 3rd to last page of each PDF.
▶️What formats are included?
-Pdf version to print out.
-Google Slides version.
▶️What mode should I use this in google slides?
These products are meant to be used in "edit" mode (not "presentation" mode). Edit mode is the only mode that allows drag & drop and writing in text boxes.
─────────────────────────────────────────────────────────────
⭐Recommended Resources⭐
★ Passport to Executive Functioning DIGITAL
★ My Emotions Monsters DIGITAL
★ Small Group Counseling Curriculum BUNDLE
─────────────────────────────────────────────────────────────
✨Let's stay in touch ✨
❤️Click here to follow my TPT store to be updated about new products which are 50% off the first 24 hours posted!
Heart and Mind Teaching on Pinterest
Heart and Mind Teaching on Facebook
Heart and Mind Teaching on Instagram
Heart and Mind Teaching Website and Newsletter (sign up for my newsletter to get access to my freebie library).
─────────────────────────────────────────────────────────────
Copyright 2020 © Heart and Mind Teaching.
If you have questions please contact me: HeartandMindTeaching@gmail.com
Report this resource to TPT