Social Emotional Learning: For Families - The Bundle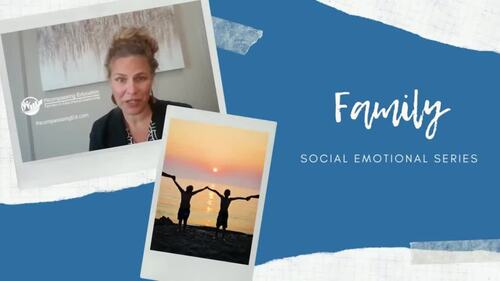 ;
Adult Education
,
Homeschool
,
Staff
Streaming Video

(cannot be downloaded)
Products in this Bundle (7)
showing 1-5 of 7 products
Description
We understand that parenting is a tough job, especially when your child is displaying challenging behaviors due to unmanaged stress. Are you feeling overwhelmed and unsure of how to help your child deal with their emotions? We have a solution for you!
Introducing the Family Social Emotional Learning Video Series - a six-part video series designed to help you develop a positive relationship with your child and manage their stress. Each video ranges from 30-45 minutes and is tailored to support parents like you.
The first three videos will focus on understanding the stress response system, how it impacts both you and your child, and tips to promote mental wellness in your home. You will also learn how to care for yourself and parent from a brain-aligned perspective that prevents stress and promotes wellbeing.
The other three videos will cover specific topics, such as how to support children with anxiety, tips on developing emotional literacy, and organizational skills to help you manage your daily routine.
Our video series competencies include promoting mental wellness at home, brain-aligned parenting, supporting students with anxiety, organizational tips, and understanding the importance of self-care, because you can't pour from an empty cup.
With the Family Social Emotional Learning Video Series, you will gain the knowledge and tools needed to handle your child's challenging behavior with confidence and ease. Don't wait any longer to take the first step towards a positive relationship with your child. Order the Family Social Emotional Learning Video Series today and see the difference it can make in your life!
Be sure to check out:
Click here to follow me and be the first to hear about new products, sales and special promotions. For additional resources, be sure to check out my store.
Report this resource to TPT