Social Emotional Learning, Social Skills, Character Education SEL Curriculum K-2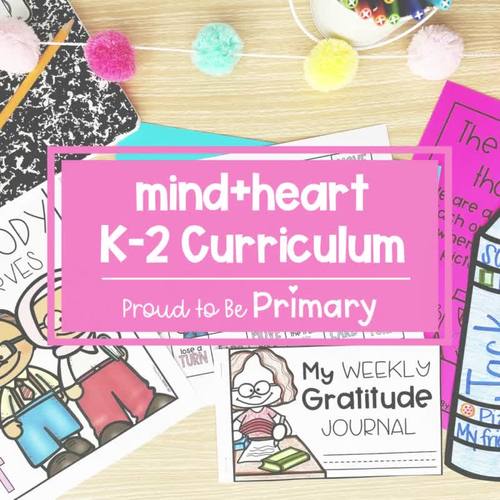 ;
Products in this Bundle (11)
showing 1-5 of 11 products
Bonus
Book List, Family Partnership Guides & Binders Covers
Also included in
The mind + heart Social Emotional Learning Curriculum BUNDLE includes 8 units for K-2 and 8 units for 3-5 (That's 80+ detailed character education LESSONS) filled with hands-on and mindful activities that encourage children in Kindergarten, first, second, third, fourth, and fifth grade to build impo

Price $94.40

Original Price $236.00

Save $141.60
Description
The mind + heart Social Emotional Learning Curriculum includes 8 units (40+ detailed, character education LESSONS) filled with hands-on and mindful activities that encourage children in Kindergarten, first grade, and second grade to build important social skills and emotional awareness.
Teach children the most important lessons in life when they need them the most with units and activities on emotions, self-regulation, growth mindset, empathy, and social awareness, friendship, kindness, respect, and responsibility.
Want to build a peaceful classroom filled with respectful, confident, and kind children that can build relationships and communicate effectively? Then this curriculum is for YOU! Used in over 10 thousand classrooms by happy teachers worldwide (see the feedback and reviews below).
This social-emotional learning BUNDLE gives you an entire YEAR'S WORTH of SEL lessons (41) and HUNDREDS of activities covering many important social-emotional topics all young children need to learn and practice.
↑↑↑ Look at the PREVIEW for the mind+heart SEL BUNDLE up close, the individual units included, and the variety of lessons and activities included!↑↑↑
Need digital and printable SEL lessons and activities?
♥♥The DIGITAL & PRINTABLE Social Emotional Learning Curriculum COMBO BUNDLE for K-2 is available NOW at a HUGE discount (40% OFF buying the units separately)! Use both bundles together (DIGITAL & PRINTABLE) to offer a well-rounded SEL program in your classroom! ♥♥
WHY this is the ONE Social-Emotional Learning resource you need to teach kids!
Each unit's lessons and follow-up activities can extend to cover your SEL time for a month! This is a flexible SEL curriculum that can be taught when teachers have time, while the recommendation is to teach a lesson once a week and extend it throughout the week with follow-up activities.
You will have what you need to facilitate meaningful discussions and impactful activities that build important social and emotional skills and grow your classroom community.
You will save time as the planning is done for you.
Since this is research-based and follows the CASEL framework for SEL, you know you are covering the most important lessons kids need!
It provides a TON of variety and includes activities that will engage students and help them build important emotional awareness skills.
The lessons and activities work great for morning classroom meetings or end-of-the-day lessons, for school counselors, classroom teachers, and in a homeschool setting.
What is mind+heart?
The mind+heart social-emotional learning curriculum was designed to help teachers instruct young children to develop emotional literacy, self-control, and social competence. The ultimate goal is for primary aged children to develop a healthy sense of self and positive peer relations that will continue throughout their lives.
Children will learn to express their emotions appropriately, solve problems, develop a "growth mindset", build relationships, and be thoughtful, empathetic citizens who take responsibility and show respect.
mind+heart includes a variety of thought-provoking lessons and discussions, community building ideas, and engaging activities to help build important social and emotional skills. Children will have many opportunities to learn, practice, and develop SEL through a variety of lessons and activities.
mind+heart loosely aligns with the CASEL framework of the 5 core competencies for SEL, as well as other state SEL initiatives, which are research-based. It provides educators with an affordable option that is comprehensive and appropriate for the K-2 classroom.
What units are included in the mind+heart SEL curriculum?
Emotions Unit 1: Identifying and labeling; What causes emotions; Expressing emotions; Labelling experiences.
Self-Management Unit 2: self-regulation & ways to calm down; self-control, and self-esteem.
Growth Mindset Unit 3: fixed vs. growth mindset; the elastic brain; effort & perseverance; failure, mistakes & challenges.
Relationships Unit 4: communication - listening & speaking; friendship; teamwork & cooperation; sharing & taking turns.
Social Awareness Unit 5: how feelings & behaviors affect others; developing & displaying empathy; building a community of compassion.
Kindness Unit 6: what is kindness - ways to show; what to say; caring for others; kindness challenge; generosity; Bucket Filling.
Respect Unit 7: what is respect? Ways to show respect, honesty, gratitude, & acceptance.
Responsibility Unit 8: responsibility; peaceful problem solving; goal setting; anti-bullying.
Engaging and Meaningful SEL Activities are included in EVERY UNIT!
Discussion Starters cards
Interactive anchor charts and bulletin board materials
Posters
Sorting activities
Boardgame, card game, and matching game
Interactive tools, such as a calm down kit and feelings clip chart
Storybooks
Craftivities
Journals
& more!
PLUS A BONUS: Family Partnership Guides (For every unit)!
The best part? Connect with and encourage families to participate in their child's social-emotional learning development and the concepts you teach at school. Each unit includes a printable guide with a letter to families, strategies and activities they can try at home, and a book guide with video links.
Want to learn more about the mind+heart curriculum? Readthis blog post about the features included in this curriculum, q&a, and other important details.
TEACHERS LIKE YOU SAID…
⭐️⭐️⭐️⭐️⭐️ Mrs. G. says, "I cannot even begin to explain how relieved I am to have found this resource. I have used recommended published SEL curriculums such as Second Step and they have not even begun to address the needs of my students. (I am a general ed, first grade teacher, in a diverse title 1 school with a high population of ELLs... the needs of my students go beyond the average- ADHD, anxiety, PTSD, abuse, autism, etc.). I started off with "Self-Regulation" and it was perfect! Thank you so much! I bought this with my own money, without my principal's consent, but once I started using it, and showed her how my students were using the language, vocabulary, and responding to the curriculum, she reimbursed me! Thank you so much. I am recommending it to all my fellow teachers and I hope they purchase it as well!"
⭐️⭐️⭐️⭐️⭐️ Teaching at 7000 ft says, "My students love when we have our mind and heart time! This is a superb resource, and if you are thinking twice, just do it!! You won't be disappointed!!"
⭐️⭐️⭐️⭐️⭐️ Debora C. says, "BUY IT! Don't think about it. Just buy it! Awesome! Perfectly planned, amazing resources, and everything ready to use. I love it! So do my little ones! :)"
♥♥Teach grades 3-5? The mind+heart Social Emotional Learning Curriculum for 3-5 is available for a SPECIAL DISCOUNT. You will get an entire year's worth of lessons (40 included) and activities to help older kids to develop emotional literacy, self-control, and social competence! ♥♥
Related SEL Products that work great with this resource!
Seasonal SEL (Back to School, Fall, Winter, Spring, End of the Year) Bundle
Kindness Classroom Challenge Pack with Calendars
Social-Emotional Learning Poems & Activities
Stay connected with Proud to be Primary
♥Click HERE to follow our store and receive notifications of new product releases, sales, and freebies.
♥Join our email list and get weekly teacher tip emails and access to our FREE resource library.
♥Visit our website at Proud to be Primary for tons of engaging ideas for teaching kids in the classroom!
♥Join our FREE Facebook group and connect with thousands PROUD primary teachers like yourself.
Have questions?
Please ask all questions before purchasing or email me at elyse@proudtobeprimary.com.
Terms of Use: This product is licensed for personal classroom use ONLY unless multiple licenses are purchased. Your purchase grants you a license to use in a secure, password-protected online platform (such as Google Classroom) with your students only. You may not transfer or share with another teacher or use for commercial purposes (Outschool, etc.).
©2013 to Present - Proud to be Primary - Elyse Rycroft
Report this resource to TPT
Standards
to see state-specific standards (only available in the US).
Participate in collaborative conversations with diverse partners about kindergarten topics and texts with peers and adults in small and larger groups.
Follow agreed-upon rules for discussions (e.g., listening to others and taking turns speaking about the topics and texts under discussion).
Continue a conversation through multiple exchanges.
Speak audibly and express thoughts, feelings, and ideas clearly.
Participate in collaborative conversations with diverse partners about grade 1 topics and texts with peers and adults in small and larger groups.