Social Emotional Learning in the Classroom: New School Picture Book (Video)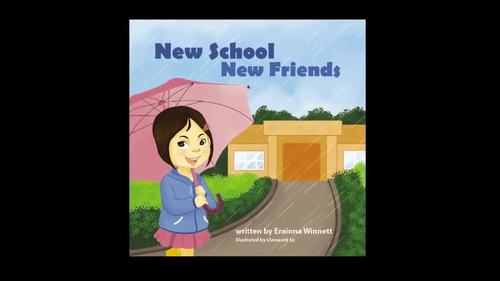 ;
Also included in
SAVE $21.00 BY BUYING THE BUNDLEAll thirteen of my Picture Book Videos, along with Activity Guides, are now available in one bundle: Picture Books are appropriate for grades K-6.Includes Book Videos:Mrs. Joyce Gives the Best High-Fives (introducing the school counselor)Frenemy Jungle (relational agg

Price $40.00

Original Price $61.00

Save $21.00

Get everything you need as an elementary school counselor AND save 25% when you purchase this HUGE bundle : Character Education, Red Ribbon Week, Parenting Newsletters, Responsive Services/Small Groups (Print-n-Go Activity Books), Guidance Lessons (Picture Book Videos), Mindful Relaxation Coloring P

Price $200.00

Original Price $237.00

Save $37.00
Description
Most of us will get a new student throughout the school year. Oftentimes these students have a difficult time making new friends. This professionally illustrated digital story tells the tale of two little girls and how they become quick friends by following the steps on a classroom poster. Ideal for anyone who works with children who may have a difficult time making friends. Full video with professional read-aloud of the book New School, New Friends.
ENJOY A FREE PREVIEW BY CLICKING THE MOVIE ICON ABOVE.
This download includes a ZIP folder with two files:
1) Story Book Video (4:35 minutes)
2) Story Companion Activities including the following:
Good Friend Traits
A Good Friend Writing Prompt
Friend Venn Diagram
New Friend Survey
My New School Friend drawing activity
Friendship Quilt
Friendship High-Fives
STORY SYNOPSIS
New School, New Friends
Drat. Gulp. Sigh.
Mia's new school seems nothing like her old school, and the lump in her throat stops her from making new friends—until she discovers a poster with ten simple ideas that can easily turn things around. Let the step-by-step adventure begin!
(If you'd like a softcover edition of this story for your class library, please shop Amazon $9.95.)
FEEDBACK & FOLLOWERS
Did you know that you can receive credit towards future TpT purchases by reviewing this product? If you enjoy this product, please leave a review at the product page or through "My Purchases" under "My Account" at TpT.
You can also follow me for the latest news of products and sales.
If you have any questions, I'd love to hear from you! ~Erainna
Email: erainnawinnett@gmail.com
Pinterest: Counseling with HEART
Blog: Counseling with HEART
Teaching Duration
30 minutes
Report this resource to TPT