Social Emotional Workbook plus Distance Learning for Teens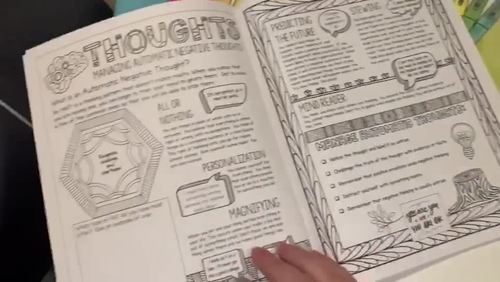 ;
Easel Activity Included
This resource includes a ready-to-use interactive activity students can complete on any device. 
Easel by TPT is free to use!
Learn more
.
What educators are saying
Our school has a class specific to SEL which uses Second Step, and this resource was a great supplement to pair with it!
This resource was so easy to implement. I meet with students one on one and created a my student their individual workbook. The content is easy to follow and engaging for the students.
Also included in
This bundle includes both versions of my Social Emotional Learning Workbooks.The teen version includes 3 extra topics not included in the lower version. Many of the other topics have similar information and there is some overlap. The older version has less cutesy clipart and more writing in many cas

Price $20.20

Original Price $26.25

Save $6.05
Description
This SEL Workbook includes a printable and digital version with 27 important social emotional learning topics to use all year. This makes it perfect for distance learning! You can choose to print them as individual double sided worksheets or have them bound into workbooks to give to each student. You can use them all year for all of your individual, small group, classroom lessons and parental support needs.
*NEW - a Digital Activity version has been included using the new TpT Digital Activities tool that can be assigned to students through Google Classroom.
You will need to go back to the product page to open the Digital Activity. Assigning through Google Classroom and grading all happens directly on the TpT site.
Perfect for social emotional distance learning.
27 Topics with 2 pages per topic:
❤️The Teen Brain
❤️Anxiety / Worry
❤️Mindfulness for Teens
❤️Attendance
❤️Teen Depression
❤️Healthy Relationships & Friendships
❤️Growth Mindset
❤️Self-Control
❤️Self-Esteem
❤️Anger
❤️Bullying
❤️Test Prep
❤️SMART Goals
❤️Personal Hygiene
❤️Divorce
❤️Grief
❤️Diversity
❤️Coping Skills
❤️Respect
❤️Giving an Apology
❤️Gratitude
❤️Good Choices for a Healthy Life
❤️Teasing
❤️Breathing Strategies
❤️Automatic Negative Thoughts
❤️I-messages
❤️Empathy
* Please Note *
Counselors/Specialists:
You are purchasing a license for one School Counselor to use with the students you serve only. If you want other Counselors to use these, you will need to purchase an additional license for them.
Teacher User:
You are purchasing a license for your classes/students only. If other teachers use these, they will need to purchase an additional license.
You might also like these
Social Emotional Learning Brochure Bundles
Report this resource to TPT