Social Language Teach and Practice Units GROWING Bundle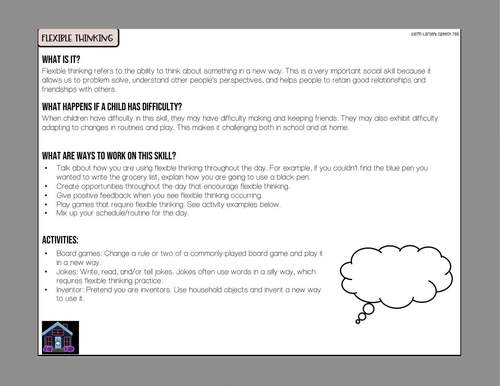 ;
What educators are saying
This is an excellent, easy to use resource to walk kids through social language tasks. I love the teach and practice component. Great product!
My students really enjoyed using this product. Cant wait to continue incorporating this resource into my future sessions.
Products in this Bundle (3)
Description
Need pragmatic language tools for TEACHING and PRACTICING? grab and go units are your answer! Each unit includes teaching handouts, multileveled activities, task cards, short stories, and so much more, all leveled to meet your students social language needs.
This is a GROWING bundle! Meaning, buy now and get all future units for !
Currently includes:
perspective taking
asking and answering questions
problem solving
The perspective taking tool includes:
visuals
stating your own perspective (handout, practice, task cards, homework)
others might think differently (handout, practice, homework)
flexible thinking (handout, practice, task cards, homework)
putting yourself in someone else's shoes (handout, practice, task cards, homework)
considering others' emotions (handout, practice, task cards, homework)
thinking of similar experiences (handout, practice, homework)
respecting others' perspective (handout, practice homework)
comparing perspectives (handout, practice, task cards, homework)
*DIGITAL OPTION INCLUDED!
The asking and answering questions tool includes:
teaching handouts (8 included)
identifying question types
identifying appropriate vs. inappropriate questions
creating questions
keeping the conversation going
matching
picture scenes
short stories (70+, 2 levels)
task cards (360 cards + b&w version)
real pictures
home practice (20+ pages)
The problem solving tool includes:
teaching handouts (7 included)
note for the SLP
visuals (strategy board and problem solving sequence)
identifying problems picture scene activity
identifying problems written practice
thinking of solutions activity
appropriate solutions activity
solving problems picture scene activity
solving problems matching activity
solving problems written activities
solving problems in social situations
short stories
task cards (2 levels, color and b&w)
real picture task cards
home practice
blank templates for individualized use
**DIGITAL OPTION INCLUDED!
*SEE PREVIEW FOR EXAMPLES
MORE PRAGMATIC LANGUAGE TOOLS:
Perspective Taking: Teach and Practice
Pragmatic Language Drill Cards
---------------------------------------------------------------------------------
*This resource is also included in The Speech Therapy Toolbox!*
CUSTOMER TIPS:
FREE money (TpT credits) for leaving feedback:
• Go to your 'My Purchases' page. Next to each purchase you'll see a 'Provide Feedback' button. Each time you give feedback on paid purchases, TPT gives you credits that you use on your future purchases (AKA reduced or even freeee products!). I LOVE reading your feedback!!
What's the green ★ for?:
• Click the green star to become a follower. You'll be the first to know about freebies, sales, and new products. All new products are discounted 50% off the first 24 hours as a big thank you for following along.
As always, please contact me with any questions at erin@speechtea.com.
Thank you so much!
Erin Larsen
-------------------------------------------------------
Let's connect!
Report this resource to TPT