Social Story 1 (I Can Use Calm Down Strategies)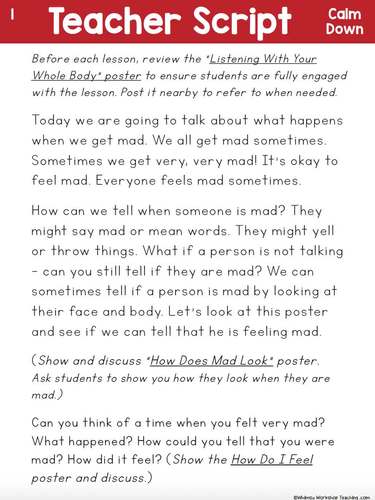 ;
Also included in
These social skills packs are game-changers in the primary classroom! Time spent introducing and discussing expectations and procedures is time well spent, and now you'll have all your social stories and activities together in one pack for the entire school year! What's Included In Each Social Story

Price $96.00

Original Price $154.00

Save $58.00
Description
Social stories are game-changers in the primary classroom!
Using social stories for a number of common classroom situations gives students to tools they need to manage themselves in a positive and successful way.
Direct teaching and reinforcing of strategies is the key to a peaceful classroom!
This social story pack was designed for students who are struggling with social skills and self management, but these will benefit ALL the students in your room, and create a positive environment.
Teaching with social stories is time well spent!
WHAT 'S INCLUDED?
This pack includes MORE than just the social story.
It has a whole week of follow up activities, including the following:
★ Printable 6-page story book (half-page, third person) to add to your class library, or share it as a projected ebook. (Includes thinking questions at the end for more discussion.)
★ A simple, two-page teacher script to read aloud to students as an introduction to the topic (questions embedded to guide conversation)
★ One or more reference posters with simple sentences and visual representation
★ Social story strips for student reference (first person)
★ Student mini-book (one page foldable) of the social story (first person) for students to color and fill in the speech bubble dialogue (optional)
★ Personal Connection Comic: Students fill in the comic and draw/write about their own connections to the topic, including how the might feel and what kind of self-talk they could use in that situation (emotions pictures for reference)
★ Partner Play: a 3-person play to read or perform with the class to reinforce concepts
★ Paper characters; cut out and assemble the characters from the story - they stand up on their own, and can be used to act out the story
★ Sorting positive choices printable
★ Mini-Flip Book - writing about personal experiences with the topic
★ Discussion Cards to use as conversation starters or to use as journal writing prompts in your writing centres (blank cards included to make your own situations relevant to your classroom)
★ Social Skills Game Board - students answer each question they land on as a review of the discussion questions.
WHAT ARE SOCIAL STORIES?
Social stories are simple stories that describe common situations that occur frequently in the classroom. They describe the situation, possible feelings that may occur, self-talk strategies that can be helpful, and the desired outcomes. These stories have been especially helpful for my younger students, students with autism or students with disruptive behavioural issues.
WHY ARE SOCIAL STORIES HELPFUL?
★ Social stories help clarify positive and expected social behaviours regarding routines, directions and peer interaction
★ Social stories reinforce shared emotions we all have, and how to cope with them in positive ways
★ Social stories teach and practice self-talk as a way to manage big emotions and reactions
★ Social stories help students cope with change, transitions, conflict and other distressing events
★ Social stories help students with behavioural needs gain skills in recognizing social cues and build meaningful friendships
LOOKING FOR MORE SOCIAL STORIES?
PLEASE NOTE This social story pack is part of a larger bundle at a much reduced price. If you have more than one topic in mind, please take a quick look at the bundle for significant savings! Click the link below to see it.
The Ultimate Social Stories Collection -
A Week of Activities for Each Story
The The Ultimate Social Stories Collection bundle includes the following topics:
★ I Can Use Calm Down Strategies
★ I Can Be Assertive: STOP I Don't Like It
★ Fire Drills
★ I Can Raise My Hand (Wait To Talk)
★ I Can Clean Up Quickly
★ I Won't Interrupt (ex. when adults are talking)
★ Losing A Game - I Can Handle It
★ I Can Use My Inside Voice
★ Mistakes Are Okay (I Can Learn From Them)
★ Being Flexible When Plans Change
★ Taking Good Care Of Belongings
★ Personal Space
★ I Can Focus On My Tasks
★ I Can Keep Trying (Practice and Perseverance)
★ I Can Share
★ I-Feel Messages for Conflict Resolution
★ Appropriate Behavior In The Hallway
★ I Am A Problem Solver
★ I Have Good Manners
★ Following Playground Rules
★ Asking To Play
★ Including Others
★ Giving My Best Effort
★ Smooth Transitions
★ Taking Turns
★ Substitute Teacher
★ Lining Up Quietly
★ Washing Hands/Spreading Germs
★ Being Kind
★ Saying Sorry
★ Respecting Differences
★ Teacher, How Do You Spell...?
The Ultimate Social Stories Collection -
A Week of Activities for Each Story
LOOKING FORE MORE SEL SOCIAL SKILLS ACTIVITIES?
You can find hundreds of easy-to-teach activities in the full year SEL curriculum called The Kindness Classroom. They are all organized into 8 comprehensive units that cover topics like Self-Management, Conflict Resolution, Growth Mindset, Kindness and Friendship, Inclusion and Anti-Bullying, Making Good Choices, and more.
CLICK BELOW TO TAKE A QUICK LOOK!
(Grab a free emotions activity in the preview.)
Kindness Classroom Yearlong SEL Curriculum
I genuinely appreciate your feedback!
If you have any ideas or concerns, please email me directly at whimsyworkshopcreations@gmail.com
You can see ALL clip art and early literacy sets organized in one place by clicking Whimsy Workshop Teaching -- simply choose one of the drop down tabs at the top of the page!
Keep In Touch!
FACEBOOK: Follow Whimsy Workshop on FACEBOOK to be notified of new products and reduced prices.
TPT NOTES Receive email notifications from TPT about temporary discounts on my new product listings, just click the "FOLLOW" button at the top of THIS PAGE (near the green star).
NEWSLETTER FREE RESOURCES: You can receive exclusive free content in my newsletters - and receive an instant gift! It's a Giant Never-ending Sight Words Game Board! Your first email will also contain access to a huge FREE resource library of literacy, social skills, math, STEM, art and clip art resources! Emails will arrive about 3 times per month.
Just Click HERE to see the instant download!
-Susanna
Whimsy Workshop Teaching
******************************************************************************
Terms of Use
Literacy or Math Products and Freebies are limited to single classroom use only. In order to legally use this resource in more than one classroom or district, you will require a multiple user license (on checkout page) which will offer a discount from the original price.
******************************************************************************
Report this resource to TPT