Solar System and Planets Unit Activities: Passages Worksheets Phases of the Moon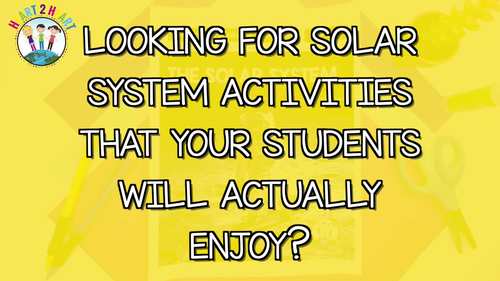 ;
Easel Activity Included
This resource includes a ready-to-use interactive activity students can complete on any device. 
Easel by TPT is free to use!
Learn more
.
Easel Assessment Included
This resource includes a self-grading quiz students can complete on any device. 
Easel by TPT is free to use!
Learn more
.
What educators are saying
This resource is well laid out and simple to use. I will use the moon section to supplement my existing moon resources and the rest of the solar system will be my extensions. Thank you!
Also included in
Make teaching 3rd 4th Grade Science fun with these engaging with this Science Bundle for the Entire Year. This Science for the Year MEGA Bundle includes 12 of my BEST-SELLING Science Units for upper elementary students.Science Units Included:1. Weather 2. Solar System 3. Light and Sound4. Force and

Price $90.30

Original Price $129.00

Save $38.70

This Solar System BUNDLE is out of this world! It has 20 reading passages with 3 levels of difficulty about the Solar System, Sun and Moon, moon phases, stars and constellations, Neil Armstrong, Sally Ride, and the Earth's rotation vs. revolution. This bundle has it all: leveled passages, graphic or

Price $20.50

Original Price $29.00

Save $8.50
Description
This complete unit about the Solar System is designed to help kids learn about the planets, phases of the moon, and two famous astronauts: Neil Armstrong and Sally Ride. With our kid-friendly reading passages and activities, your students will have hours of astronomical fun!
It has leveled reading passages, comprehension questions, hands-on activities, a pacing guide, video links, a flip book, fact flaps, vocabulary posters, character studies on Neil Armstrong and Sally Ride, a unit test, answer keys, and much more!
A Digital Version of this unit for Google Classroom is available here!
This unit includes many interactive activities and learning opportunities for students, including reading passages that come in three different levels of difficulty to meet the needs of all your students. Passages have comprehension questions to check for understanding.
The Sun
The Moon
Phases of the Moon
The Solar System
Rotation vs. Revolution
The Constellations
Mercury
Venus
Earth
Mars
Jupiter
Saturn
Uranus
Neptune
Pluto
Solar System Chart
Which Planet is it?
Exit Slips
Video links shared from YouTube
Planet Fact Flaps
Rotation vs. Revolution Activity
Phases of the Moon Chart
Brochure Activity
Writing Prompts (2)
Venn Diagrams
8 Planet Informational Posters
Teacher's Pacing Guide
Vocabulary Posters
Vocabulary Flip Flaps
9-Page Solar System Flip-Up Booklet
Spotlight on Vocabulary
Unit Test
Answer Keys
⭐THIS UNIT IS PART OF A SCIENCE MEGA BUNDLE
There are 3 main activities:
Introduce the vocabulary words with the real-life photo posters included. You could post these posters around the classroom and have students travel around to match up and define the words on the Spotlight on Vocabulary or use them as a center activity. These posters are excellent for a bulletin board display too.
Have students read the leveled passages about the Solar System with comprehension questions to check for understanding. You could have students work with a partner, in small groups, or even as a center or learning station activity. Exit slips are included for each topic as a quick check method.
Have students complete the Solar System Flip booklet and build it page by page. The Flip booklet is built so the planets go in order of their relation to the Sun. Each page of the Flip booklet includes a graphic organizer that has students answer questions about each planet such as:
✔How long does it take to turn on its axis?
✔How long does it take to orbit the Sun?
✔Where is it in relation to the Sun?
✔Describe what it looks like?
✔Tell one interesting fact
Eight colorful Planet Posters with lots of diagrams, additional info, and facts about each planet to help answer questions on the flip book or use them for an additional research project.
Meets S4E1: Students will compare the contrast the physical attributes of stars, star patterns, and planets.
b. Compare the similarities and differences of planets to the stars in appearance, position, and number in the night sky.
c. Explain why the pattern of stars in a constellation stays the same, but a planet can be seen in different locations at different times.
Meets S4E2: Students will model the position and motion of the Earth in the solar system and will explain the role of relative position and motion to determine sequences of the phases of the moon.
a. Explain the day/night cycle of the Earth.
b. Explain the sequence of the phases of the Moon.
c. Demonstrate the revolution of the Earth around the Sun and the Earth's tilt to explain the seasonal changes.
d. Demonstrate the relative size and order from the Sun of the planets in the solar system.
Related Products
► Solar System Activities: A Scavenger Hunt with Colorful Planet Posters
► Solar System PowerPoint with Guided Notes
► Solar System Activities: Research Organizers for Solar System Projects
CHECK OUT MY OTHER POPULAR SCIENCE UNITS:
JUST FOR YOU!! To assess the quality and see the style of my work please check out these two FREE activity packs by clicking below:
Subscribe to our NEWSLETTER to be notified of special giveaways, shop updates, and to see our products in action!
*****************************************************************
***Please know that I spend a lot of time researching, creating, writing, and proofreading my work but even after several revisions there may still be a typo or grammatical error. Please let me know if you find a typo or feel that a correction is needed. Just click on the Ask a Question section or email me at heart2heartteaching@gmail.com versus leaving negative feedback so I can fix it as soon as possible. I value your input to make my products the highest quality possible. Thank you in advance for your help and support!
Copyright © Heart 2 Heart Teaching LLC. All rights reserved. This file is intended for classroom and personal use only. Any redistribution or reproduction of part or all of the contents in any form is prohibited other than the following:
**You may print for personal, classroom, and non-commercial use only.
**Clipart, graphics, and photographs, found inside this product are copyrighted. They may not be extracted from this file without written permission from the original artist(s).
Teaching Duration
3 Weeks
Report this resource to TPT
Standards
to see state-specific standards (only available in the US).
Describe the connection between a series of historical events, scientific ideas or concepts, or steps in technical procedures in a text.
Explain how specific images (e.g., a diagram showing how a machine works) contribute to and clarify a text.
Ask and answer questions to demonstrate understanding of a text, referring explicitly to the text as the basis for the answers.
Determine the main idea of a text; recount the key details and explain how they support the main idea.
Describe the relationship between a series of historical events, scientific ideas or concepts, or steps in technical procedures in a text, using language that pertains to time, sequence, and cause/effect.