Song Analysis: An Introduction to Poetry Analysis with Song Lyrics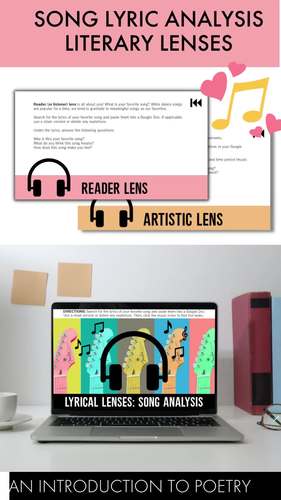 ;
Zip

Google Apps™
Includes Google Apps™
The Teacher-Author indicated this resource includes assets from Google Workspace (e.g. docs, slides, etc.).
What educators are saying
Excellent resource used with my grade 9 students. They found it not only interesting and engaging, but I as the teacher found this to be very educational.
Your engaging resource added a nice touch to my poetry unit, and my students enjoyed this activity. Thank you so much for creating and sharing such an awesome resource!
Description
Hook your students for a poetry lesson or unit with this engaging song lyric analysis activity. All students love music, and music is poetry. It should follow that students love poetry. But, this isn't usually the case. This activity bridges the gap so students can explore a connection between lyrics and poetry and learn to appreciate poetic form.
This activity uses five literary lenses (lyrical lenses) to analyze the lyrics of your students' favorite songs: reader lens, formal lens, biographical lens, psychological lens, and artistic lens. For each activity students will analyze the lyrics and melody of their favorite song using that perspective.
This activity can be completed in digital or print format. The tasks are editable in PowerPoint (for printing) or Google Slides (for digital). *Please note the headings and clipart are not editable.
An example answer key is included. You can use this example as a model before students begin the assignment to provide them with more structure and direction, or you can use it as your example to share after students have completed the assignment.
What's included?
Editable PowerPoint for Printing
Editable Google Slides for assigning digitally
Directions for use
An example answer key
Check out the preview!
⭐ UPDATED WITH A NEW RE-DESIGN AND DIGITAL OPTION ON 3/24/2022
Report this resource to TPT
Standards
to see state-specific standards (only available in the US).
Determine the meaning of words and phrases as they are used in the text, including figurative and connotative meanings; analyze the cumulative impact of specific word choices on meaning and tone (e.g., how the language evokes a sense of time and place; how it sets a formal or informal tone).
By the end of grade 9, read and comprehend literature, including stories, dramas, and poems, in the grades 9-10 text complexity band proficiently, with scaffolding as needed at the high end of the range.By the end of grade 10, read and comprehend literature, including stories, dramas, and poems, at the high end of the grades 9-10 text complexity band independently and proficiently.