Song "Change the World, With Kindness" Based on Amanda Gorman's "Change Sings"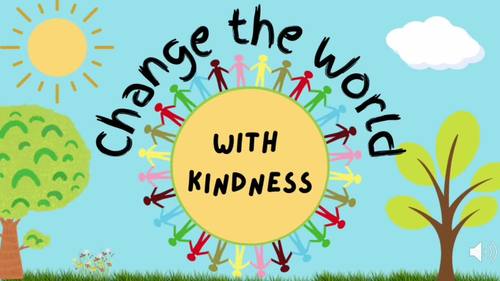 ;
What educators are saying
Lovely little song for Kindness Week and my students so enjoyed accompanying it on orff instruments. The phrases are simple to teach and motivating to practice.
Wow, I LOVE this resource, and my students did, too! Thank you so very much for sharing your work with us!
Also included in
Combining quality musical experiences with the SEL theme of caring, kindness, thankfulness, and social action is what you will get with these three songs. A wide variety of musical offerings include a round, echo song, Orff arrangements, movement and scarf activities, and so much more. There's somet

Price $12.60

Original Price $15.75

Save $3.15
Description
Amanda Gorman's book, "Change Sings", inspired this new song for young singers that calls on all of us to use kindness and helpfulness to change somebody's life. With lots of repetition and counting sequences in the lyrics, this easy-to-learn song is the perfect concert selection for K-2 and relates to character ed and SEL, as well as music.
It's a perfect concert selection!
The entire ABA section is repeated and a marimba takes the melody on the repeat so that the performers can do some special movements.
This resource includes:
a 50-slide PPT presentation that teaches the song with Kodaly, Orff, and optional ukulele elements.
embedded audio & video files to break down the learning and as performance aids
PDF files of all the music notation
The Breakdown
The Song-a bouncy melody with lots of stepwise and sequenced passages.
Orff-Body percussion and movements taught using audiation
Kodaly-identifying quarters, eighth note pairs, and half notes. If you aren't ready for any of those notes, those slides are easy to skip.
Ukulele-Chords needed are C, Dm, F, D7, and G7. Great for older students or adults who might accompany your younger performers.
Performing Options
with included mp3 (in PPT)
with piano accompaniment (PDF file)
with ukulele
find a combination of the above to fit YOUR classes
Because of the many audio files, it is available in PPT only.
The Oodles Song Teaching Series
One Piece of Pie: "Perfect fall activity. My students loved it."
Martin's Dream of 1963: "My students have enjoyed this resource, and they were engaged. I used it to go through the words in the rap and talk about the meanings of the words and how they apply to Dr. King. It turned out to be a great lesson. My 3rd-year students want to perform it at their spring concert."
Martin's Dream of 1963: "Comprehensive and engaging resource. Easily adapted to fit needs of my classroom."
Rhythm Writing Activities
The One-Beat Diner of Remarkable Rhythms-A super FUN activity where students create a menu (of one-beat food items) and then put items (rhythms) together for a special Take-Out selection.
Follow my blog Oodles of Music for
tons of free resources
ukulele playalongs from easy to advanced (some of my most visited pages)
MEGA databases (by song subject, great videos for you and subs, holidays)
Tips & resources for concerts, staging, decorations, blacklights
Follow my YouTube channel for
Game Videos
Ukulele and Body Percussion Playalongs & Activities
Report this resource to TPT