Sorting Laundry Life Skills Tasks Boom Cards™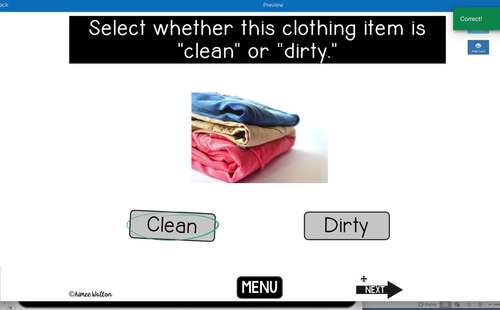 ;
5

th

- 12

th
,
Adult Education
,
Homeschool
Compatible with Digital Devices
The Teacher-Author has indicated that this resource can be used for device-based learning.
Also included in
Life Skills Teletherapy BundleAre you looking to target life skills and meeting functional communication demands throughout activities of daily living with middle and high school students? This deck contains 7 of my top life skills sellers that are all Boom Cards™ digital task cards and perfect for

Price $24.00

Original Price $26.50

Save $2.50
Description
Life Skills Sorting Laundry Boom Cards™
Are you looking to target sorting laundry through a variety of tasks? This life skills deck has something for everyone and is broken up into 3 different activities. The following activities are included:
⭐️ Sorting by Dirty & Clean Clothes
⭐️ Sorting by Whites & Colored Clothing
⭐️ Sorting by Dresser & Closet
This is a wonderful way for middle school, high school, and young adults to practice life skills in activities of daily living.
CLICK HERE for a sample of this resource!
This activity is NO PRINT NO PREP, is teletherapy friendly, and is great for distance learning. BOOM learning cards are a web-based, interactive platform that is self-checking with sound! Boom Cards can also be printed out for students and teachers that would prefer to use printed materials.
►When you download this product, you will receive a PDF with a link to the digital task cards on the Boom Learning Site. Click on the arrow and it will take you to the Boom learning site.
If you like this activity, you might also like the following activities:
3-Step Sequencing Life Skills Activities of Daily Living
4-Step Sequencing Life Skills Activities of Daily Living
5-Step Sequencing Life Skills Activities of Daily Living
Life Skills Calendar Homework for the Year
Activities of Daily Living Teletherapy Speech Boom Cards™ Bundle
Task Box Activities of Daily Living Bundle
Life Skills Solving Problems in All Seasons Speech Therapy Boom Cards™
Life Skills Weather Forecasts and What to Wear Boom Cards™
Keep the Conversation Going-Topic Maintenance Speech Boom Cards ™
Perspective Taking and Emotions-Speech Boom Cards™
Social Language and Problem Solving
Conversation Turn Taking-Speech Boom Cards™
Critical Thinking in Activities of Daily Living Speech Boom Cards ™
Follow me for updates on my newest products, freebies, and product updates!
More information on Boom Cards:
To use Boom Cards, you must be connected to the Internet. Boom Cards play on modern browsers (Chrome, Safari, Firefox, and Edge). Apps are available for Android, iPads, iPhones, and Kindle Fires. For security and privacy, adults must have a Boom Learning account to use and assign Boom Cards. You will be able to assign the Boom Cards you are buying with "Fast Pins," (play provides instant feedback for self-grading Boom Cards). Fast Play is always a free way for students to engage with Boom Cards decks. For additional assignment options you'll need a premium account.
You may be eligible for a free trial from Boom Learning. Read here for details: http://bit.ly/BoomTrial. If you choose not to stay on a premium account after your free trial, you will still be able to assign all your Boom Cards to as many students as you see fit using Fast Play pins (which give instant feedback for decks that are self-grading).
FOLLOW MY TPT STORE:
As a follower you will learn about new products that are released, sales and discounts. Click on the "*Follow Me" by my store logo to stay up to date!

WANT FREE STUFF???
If you leave feedback on any of my products, you can build up FREE TPT credits that may be applied to future purchases. Just submit feedback when you purchase a product or go to My Purchases for a list of your purchases. Click on the Leave Feedback button and leave a rating. Then go to your TPT credits to learn how to redeem credits for free purchases!
Report this resource to TPT