Sound Production Instrument Families Wall Decor for Music Classrooms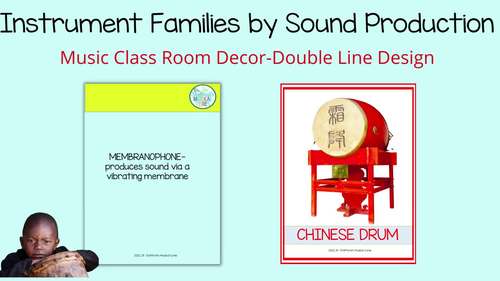 ;
Also included in
There is so much to learn in music: music theory, performance techniques, various instruments...This bundle of music classroom decor comes with varied colored double borders and includes a variety of visuals PLUS many assessments that cover or help with the following music targets:rhythmtempoarticul

Price $37.89

Original Price $42.10

Save $4.21
Description
The categories of sound production for instruments is an emerging target in music classes because it makes grouping instruments much easier, including non-traditional instruments. The Sound Production Families Double Line wall decor set provides a great opportunity for opening discussions for folk and cultural instruments, as well as electronic instruments. The students will enjoy discovering just how various instruments produce sound compared to others. The set includes the following:
A brief description for teachers on each family (idiophone, aerophone, membranophone, chordophone, electrophone).
Header pages with each family name to help organize the posters.
5-6 examples of instruments in each family, including cultural instruments.
Listening examples for instruments that might not be as familiar to the students, to either a Spotify example or a YouTube example.
Related Products
• Music Class Decor-Instruments of the Orchestra and Concert Band
• Music Class Decor: Curwin Hand Signs for Solfege-Double Border
• Music Class Decor: Legato and Staccato, Double Border Design
• Music Room Decor: Recorder Fingering Charts: Double Line Border
• Musical Dynamics Music Classroom Decor-Double Border Design
• Musical Tempo Class Decor for Music Classroom, Double Border Design
• Ukulele Chords/Chord Chart Room Decor-Double Border Design
Report this resource to TPT