South Africa Country Study Research Project - Reading Comprehension - Activity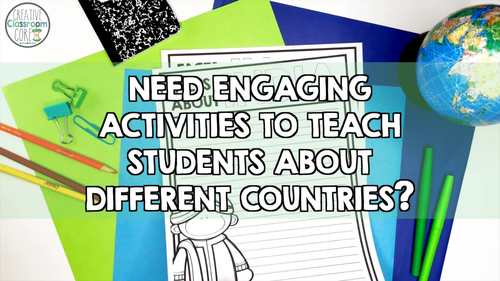 ;
What educators are saying
My students loved using this resource. It gave them a good foundation for the Unit we were studying on South Africa.
Also included in
This bundle contains 4 of my best selling Country Study activities on South Africa, Tanzania, Egypt, and Kenya. Perfect for an Around the World unit or cultural study, each country study activity contains a fact filled coloring book with writing prompts, comprehension questions, writing activities,

Price $12.00

Original Price $14.00

Save $2.00

This bundle contains 31 of my best selling country study activities on Spain, Russia, Germany, Norway, Poland, Ireland, Ukraine, Italy, France, Sweden, Australia, Canada, USA, China, Egypt, India, Israel, Japan, Kenya, Mexico, New Zealand, Russia, Tanzania, Philippines, Guatemala, Brazil, Jamaica, S

Price $65.00

Original Price $90.50

Save $25.50
Description
This 50 Page South Africa Country Study project is perfect your upcoming South Africa unit, multicultural study, or cultural fair. Full of information about South Africa, this fun fact filled coloring book and activity package includes information, writing prompts, and questions about South Africa written in engaging informational text that is perfect for the lower elementary grades. Key information about South Africa is included, including geography, the South African flag, the Cape of Good Hope, and other fun facts. It works well for a whole class activity, or can be used along with a variety of different country mini books (available in my store!) for differentiated instruction.
⭐⭐⭐A fun Passport Activity has also been included. This is a great way to boost engagement and provide opportunity for students to celebrate their learning! See below for more details!
✅Be sure to check out the thumbnails for detailed images and descriptions of activities included in this resource.
*** Recently updated in 2021- ALL NEW RESOURCES ADDED!!! ***
***********************************
This engaging package includes the following:
⭐All About South Africa Mini Book - This informational booklet contains 33 pages. Students simply cut out the pages, stack them, and staple them together. Each page contains key facts about South Africa, and black and white illustrations for students to color. The pages have not been numbered, allowing you to pick and choose the ones that work best for your students. A blank page for students to record their "favorite things about South Africa" is also included.
An additional blank page to accompany each information page is also included. These pages have the same graphics and titles, but the information boxes have been left blank. This gives you the option of having your students write in the information themselves. This is great for writing practice!
This fun mini book contains pages of information and illustrations on the following topics:
☀Map of South Africa
☀Geography of South Africa
☀Fun facts about South Africa
☀The Flag of South Africa
☀Animals
☀Economy
☀Population
☀Language
☀The Cape of Good Hope
☀The Cradle of Humankind
☀The Blue Crane (National Bird of South Africa)
☀Sports
☀Location
☀Conservation
☀Writing Prompt: "If I were to travel to South Africa, I would want to see..."
☀Writing Prompt: "Something interesting I have learned about South Africa is.."
☀Picture Prompt: Draw something interesting you have learned about South Africa.
☀Writing Prompt: "My favorite things about South Africa"
A cute cover page is also included.
⭐South Africa Comprehension Questions - A full page of comprehension questions is also included. Students use the information in the mini book to help them answer the questions. A detailed answer key is included!
⭐South Africa Fact Gathering Page - A fun graphic organizer is included to help students gather important information about the country of South Africa.
⭐South Africa Writing Paper - A writing template for students to use to record the things they have learned about South Africa is included. Three different versions of the template have been included to help make differentiation easy - blank, lined, and inter-lined.
⭐World Passport Activity - This activity was created to use alongside the different Country Study and Continent Study resources available in my Teachers Pay Teachers store. As students complete each country/continent study, they receive a new stamp for their passport - a different stamp for each place is included in each of my country/continent studies. There is also a blank country/continent map included in the passport, for students to color in the places they have learned about. Finished passports make excellent records of learning, and are a great "souvenir" to take home and share with parents.
******************************
What teachers like you are saying about this resource:

⭐⭐⭐⭐⭐"My school did a school-wide project where each class studies and presents a different country to the rest of the school in a cultural fair that takes place over a few days. This was such a clear guide to cover the basics and was so helpful. It is very accessible for the younger grades and very easy to use!"
-Jade C

⭐⭐⭐⭐⭐"We are learning about a different country every day for a month and your resource has made it so much more fun for my kids to learn about the countries around the world. Thanks for putting together such a fun resource!!!!"
-Ann P

⭐⭐⭐⭐⭐"I really like that you included 2 different versions of the book - one to read and one for writing in. Thanks!"
-Stephanie W

⭐⭐⭐⭐⭐"This resource is perfect for learning about different countries and cultures. Thank you for this resource!"
-Emily V

*******************************
Check out some great similar products here!
Philippines: Country Study Mini Book.
Japan: Country Study Mini Book.
India: Country Study Mini Book.
China: Country Study Mini Book.
Israel: Country Study Mini Book.
*******************************
Customer Tips:
How to get TPT credit to use on future purchases:
• Please go to your My Purchases page (you may need to login). Beside each purchase you'll see a Provide Feedback button. If you click on it, you will be taken to a page where you can give a quick rating and leave a short comment for the product. Each time you give feedback, TPT gives you feedback credits that you use to lower the cost of your future purchases. Don't you just love getting stuff for free?! I really value your feedback, as it helps me improve my products!
Be the first to know about my new discounts, freebies and product launches:
• Look for the green star next to my store logo and click it to become a follower. You will now receive email updates about this store. I promise not to spam you!
****************************************
Report this resource to TPT