Spanish 1 Review BOOM CARDS | Digital Task Cards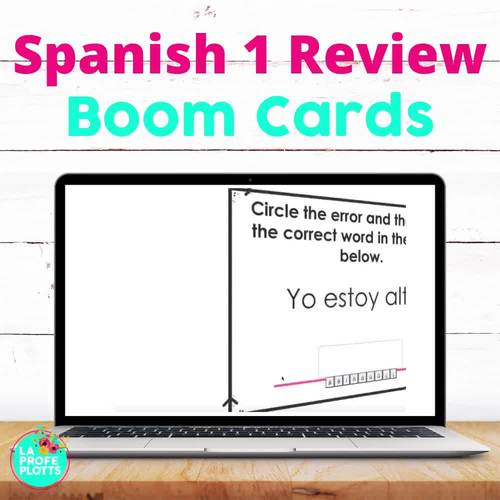 ;
Compatible with Digital Devices
The Teacher-Author has indicated that this resource can be used for device-based learning.
What educators are saying
Profe Plotts makes some of the best boom cards on TPT. I love to use these as a review activity with my students since they find them far more entertaining than worksheets.
Thank you for a great resource to use at the end of the year. A great review of Spanish I. Buy it TODAY!!
Also included in
Engage your Spanish 1 students with fun end of the year review activities they will love. The Spanish 1 review resources include activities thoughtfully designed to give your students a well-rounded review of the topics covered in your Spanish 1 class this year. Your students will love practicing th

Price $16.00

Original Price $20.00

Save $4.00

Engage your Spanish 1 students with this amazing Spanish 1 MEGA bundle. It includes everything you need to get your Spanish 1 students learning Spanish grammar and vocabulary in fun and easy ways they will love. Your Spanish 1 students will also work on Spanish reading comprehension with 135 excitin

Price $399.99

Original Price $550.75

Save $150.76

Learning Spanish can be difficult. Help your students practice important Spanish grammar and Spanish vocabulary in a fun and engaging way with this Spanish Boom Cards Bundle! Your students will love practicing their Spanish skills with Boom Cards. The game-like feel of these digital task card act

Price $168.00

Original Price $224.00

Save $56.00

If you teach Spanish 1 and 2, then this is the bundle for you! It has fun and engaging Spanish grammar and Spanish vocabulary practice to last you the entire year. This huge bundle covers all of the skills and concepts traditionally found in Spanish 1 and Spanish 2 curriculums.This Spanish 1 &

Price $599.99

Original Price $950.25

Save $350.26

Are you looking for an interactive and EASY way to give your students tons of great practice and assess their understanding of Spanish 1 digitally? If so, this mini bundle is just what you need! Students will be engaged and get a great review of Spanish 1 concepts as they work their way through the

Price $11.00

Original Price $13.00

Save $2.00
Description
Self-checking AND self-grading? YES, PLEASE! If you are looking for a fun, interactive digital activity for your students to review concepts they learned in Spanish 1, then these NO PREP Spanish Boom Cards are just what you need! Students will be engaged and get a well-rounded review as they work their way through the 75 cards in the deck. Cards include fill in the blank, multiple-choice, finding the error in a sentence and correcting it, choosing the correcting conjugation, writing numbers in Spanish, identifying the school supply in pictures, matching weather phrases to pictures, and more! These cards work on smart boards, computers, tablets, and other mobile devices. #distancelearningtpt
See how fun they are for yourself! Click HERE to play a few cards.
These cards are included in my Boom Card Mega Bundle. With the mega bundle, you save 25% on all my Boom Card decks, PLUS you get all future additions to the bundle FOR FREE! Click HERE to see it.
(If you want the printable version, click HERE.)

Here are some of the topics covered in this set:
* Regular -AR/-ER/-IR verbs in the present tense
* Irregular verbs SER, TENER, ESTAR, IR, JUGAR, DORMIR, and VER in the present tense
* Telling time
* Days of the week
* Months and seasons
* Weather
* Greetings, introductions, and good-byes
* ¿Qué te gusta hacer?
* Numbers 1-20
* School vocabulary
* Noun/adjective agreement
See a topic you didn't cover? You always have the option to hide cards. Cards that are hidden do not get put in the deck when it is assigned to students. I included 75 cards so you would have ample to choose from.
*You will need a free Boom Learning account to access these cards. Setting up an account is really easy!*
From Boom Learning: To use Boom Cards, you must be connected to the Internet. Boom Cards play on modern browsers (Chrome, Safari, Firefox, and Edge). Apps are available for Android, iPads, iPhones, and Kindle Fires. For security and privacy, adults must have a Boom Learning account to use and assign Boom Cards. You will be able to assign the Boom Cards you are buying with "Fast Pins," (play provides instant feedback for self-grading Boom Cards). Fast Play is always a free way for students to play Boom Cards decks. For additional assignment options, you'll need a premium account. If you are new to Boom Learning, you will be offered a free trial of our premium account. Read here for details: http://bit.ly/BoomTrial.
Reasons why teachers love Boom Cards:
• Boom Cards can be used on smart boards, computers, tablets, and other mobile devices.
• Boom Cards are super easy for teachers to use!
• Boom Cards are self-grading and allow teachers to track their students' progress.
• Students can go at their own pace and know when their answers are correct or incorrect.
• Students can access the cards anytime they have their mobile devices which makes it easy to access from home or on the go.
• Boom Cards enable independent learning which is perfect for students who miss school because they are absent. They are also perfect for fast-finishers!
• Students enjoy using technology. Happy, engaged students = happy teachers.
OTHER RESOURCES YOU MIGHT BE INTERESTED IN:
Spanish 1 Google Forms Assessment
Spanish 1 Review Jeopardy-style Trivia Game
Spanish 1 Review Conversation Cards
These digital task cards are included in my money-saving Spanish 1 Activities Mega Bundle. Save 25% on 100+ engaging games and activities when you buy the bundle!
Click HERE to see the other 70+ Boom Cards decks in my store!
Questions about using Boom Cards? Please don't hesitate to ask! My email is dianna@laprofeplotts.com.
Did you know you can follow my store and receive notifications when new resources are posted or I'm having a sale? I have lots of engaging resources in the works and most new resources (like these Boom Cards!) are 50% off for the first 24 hours! Click here to follow me!
Want FREE La Familia Boom Cards? Grab them HERE.
Thanks for checking out my resource!
La Profe Plotts
Report this resource to TPT