Spanish 1 Story [Gracias] Level 1+School, Present Tense- Immigration(Col/Ven)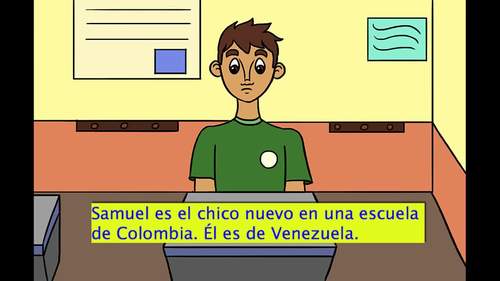 ;
Also included in
Are you looking to supplement your Education or School Unit for Spanish? Check out these activities below, as they are many and varied! Or are you just looking to start or complement your Free Voluntary Reading Time, I 've got the perfect activities that will engage your students while they learn. *

Price $28.20

Original Price $52.50

Save $24.30

Dreaming in Spanish Mega Book Bundles features 16 resources spanning from Spanish 1 (Novice) to Spanish 3 (Intermediate). These resources can be used as part of curriculum as the themes are rich and varied, or they can be used to supplement a Free Voluntary Reading Program. Each resource listed belo

Price $32.22

Original Price $56.75

Save $24.53

Help your students learn about education in other countries! Below is a collection of mostly informational texts that inform students about the characteristics, conditions, and challenges of school in different countries. These challenges include: 1. The difficulty in securing school supplies and pa

Price $11.52

Original Price $16.00

Save $4.48
Description
«Gracias» is a short, yet heartwarming story about a young boy whose Venezuelan family has to emigrate to Colombia. It's his first day of school, and he feels a little bit out of place. He was initially happy to be in school and have some sense of normalcy but is now rethinking the school experience. When the teacher moves close to his desk, to ask about his school supplies, Sam is petrified. The teacher notices, and does something incredible. In the end, Sam feels that he belongs.
Notes: Assessment Questions in English Added (if you want to use this as an assessment in class).
See the 6 activities included below!
How can I use this resource?
This resource can be used as part of an FVR program, or as a class story. This story recycles many structures and vocabulary words such as tener, mirar, hablar, caminar, materiales escolares, etc, in addition to highlighting aspects of the immigration crisis in Venezuela.
Values:
Sharing
Caring
Empathy
Open-mindedness
Is this story right for my class? If you teach Spanish 1 or 2, then the answer is a resounding yes!
Ideal level: Novice Mid-Intermediate (Level 1+)
Language: Present tense
Total Words: 324
Unique Words: 45
Glossary Included
Resources Included:
Short story: Gracias (with glossary)
Comprehension questions
True/False Activity
¿Qué pasa calabaza? Students look at two pictures and choose the statements that match the picture.
Listening MP3 (story recorded by a native Colombian)
MP4 (Introductory video included in the preview)

Topics:
Cultural Connection: Colombia/Venezuela (Immigration)
School
Classes
Teaching Duration
40 minutes
Report this resource to TPT