Spanish Class Dream House Project for LA CASA Project La Casa Ideal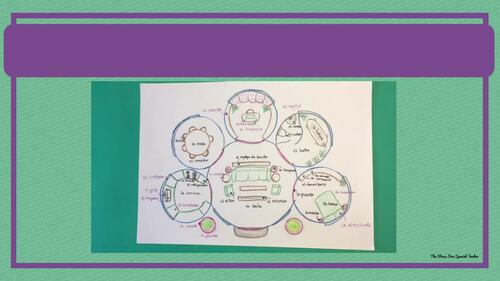 ;
5

th

- 12

th
,
Higher Education
,
Homeschool
11 student pdf pages, 11 student PowerPoint slides, 6 teacher pages (includes photo example of finis
What educators are saying
My students loved this project! This allowed them to be creative while practicing their Spanish house vocabulary.
I used this as a final project for my Spanish 2 class and they had SO much fun creating their dream houses! It was fun to see them get creative while using their Spanish!
Also included in
Interested in creating your own bundle? It's easy! Read the instructions below!·.·•Special Order for Olivia.•·.· ★Thanks so much for creating this bundle, Olivia! I hope these lessons are a big help with your classes this year!How does it work?1. Choose the products you would like to purchase.You mu

Price $52.75

Original Price $70.50

Save $17.75

⭐️BUNDLE AND SAVE!⭐️ 4 Spanish class PROJECTS bundled together to save you time and money! Themes: Culture, Clothing, Homes, Movies .✅Check out the video preview for a closer look! 1. Spanish Class Culture Project Presentation Spanish Class Culture Project with Student Instructions and editable Rubri

Price $12.00

Original Price $16.00

Save $4.00
Description
Spanish students design their ⭐️ dream house ⭐️ in descriptive detail! This is a fun project when studying LA CASA in your Spanish class Housing Unit! Students always get a kick out of dreaming up an original house to show off to the class, all while using their newly acquired Spanish vocabulary! I hope your students have as much fun with this project as mine have had!
✅Provided as both a PDF and as a PowerPoint Presentation in a zipped file. The by the teacher in the PPt.
Digital classroom friendly, distance learning friendly.
✅Teacher instructions, suggestions, and sample lesson plans are included.
This project can be done over several days, and is a great assignment to leave for a substitute!
Resource overview and explanation
Teacher photo examples with tips
Student photo examples
Warm Up, Student Questionnaire #1 partner interview
Warm Up, Student Questionnaire #2 partner interview
Dream House Project: student instructions
Dream House: student rubric
New House Project: student instructions
New House: student rubric
Partner Project presentation/proofreading interviews
Vocabulary list #1
Vocabulary list #2
✅Reading to PRINT or assign DIGITALLY! All the student pages are also provided in PowerPoint format.
✅The student instructions, grading rubrics, vocabulary lists, and proofreading interview are all editable in the PowerPoint!

There are TWO rubrics included in this packet to help your students practice their writing skills. One is for a "Dream House" and the other is for "Mi Casa Nueva."
Great project based assignment and assessment.
What teachers are saying:
"This was great and I loved the rubric. The expectations were set and there were hardly any questions as to what they had to do. I will definitely be using this again next year!"
RELATED RESOURCES:
⭐️ Donde Vives? Differentiated Instruction Unit for LA CASA
⭐️ Spanish DIGITAL Puzzles LOS MUEBLES en la CASA house furniture vocabulary!
⭐️ Casa Homes and Housing Lecturas Reading Comprehension for Spanish 1
⭐️ Task Cards: Spanish, Chores / Quehaceres and House / Homes
⭐️ Home / Casa / Housing / Chores Spanish Vocabulary Game ~ Octopus On Guard
⭐️ Spanish DIGITAL Puzzles LOS MUEBLES en la CASA house furniture vocab

Enjoy! ❤️ The Stress Free Spanish Teacher
➤➤ Click here to FOLLOW ME to be alerted when a new resource has been added to my shop! ☺
Total Pages
11 student pdf pages, 11 student PowerPoint slides, 6 teacher pages (includes photo example of finis
Answer Key
Does not apply
Report this resource to TPT