Spanish Classroom Objects PowerPoint and Interactive Notebook Activities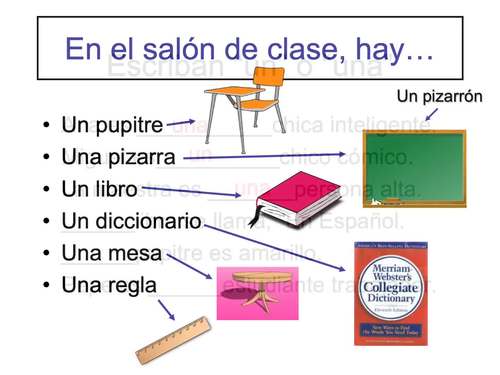 ;
Zip

Google Apps™
Includes Google Apps™
The Teacher-Author indicated this resource includes assets from Google Workspace (e.g. docs, slides, etc.).
Description
Spanish Classroom Objects and Interactive Notebook Activities include the following resources:
57-Slide PowerPoint which is a complete lesson on Spanish Classroom Objects with checking for understanding and a quiz at the end. It also includes a lesson and checks for understanding of definite and indefinite articles.
Objects are presented five at a time in accordance with the way the brain acquires new vocabulary. Students use whiteboards to answer the multiple-choice questions at the end of each segment of the Classroom Objects PowerPoint, thus engaging all students and allowing for checking for understanding.
Three Interactive Notebook Activities that correspond with the PowerPoint
Interactive Notebook Activity for the Spanish classroom objects
Interactive Notebook Activity for the definite and indefinite articles.
5-slide Google Drive Interactive Notebook Activity
PowerPoint instructions for the Google Drive Activity
List of 55 classroom objects
Answers to all activities
Digital versions of all resources, including the PowerPoint for distance learning.
The teaching of the Spanish classroom objects is a necessary step to bringing students to a conversational level. After teaching the recognition of commands, the classroom objects, useful sentences and phrases, high frequency-words and how to ask and answer questions, students can function in the language and the teacher may provide comprehensible input using the target language 90% of the time even at the beginning level.
LEARNING GOAL: Students will identify classroom objects. They will talk and write about the classroom objects and items in their backpack.
SPANISH CLASSROOM OBJECTS POWERPOINT AND ACTIVITIES ARE INCLUDED IN THE FOLLOWING MONEY-SAVING BUNDLES:
Spanish Classroom Objects and Articles Lesson Plans and Curriculum
Spanish One PowerPoints and Curriculum Bundle
To receive free resources, discounts, and notifications of new products, click on the following link to follow my store: ANGIE TORRE
___________________________________________________________________________________________________________

OTHER PRODUCTS THAT MAY INTEREST YOU:
For TPRS Stories reinforcing the classroom objects, click here: Objects TPRS
For French Classroom Objects, click here: French Classroom Objects
For TPR Stories for Spanish One and Two, click here: TPRS for Spanish One and Two
For all of my Spanish One Curriculum at a discounted price, click here: Spanish One Curriculum
For a complete list of my products, JUST CLICK HERE My Store
For more engaging PowerPoints, resources, activities, and ideas, please visit my website: Best PowerPoints for Spanish
For Spanish jokes, memes, TPR Stories, and tons of resources and ideas, connect with me on Pinterest: Best PowerPoints Pinterest
Classroom Objects by Angie Torre is licensed under a Creative Commons Attribution 3.0 United States License.
Teaching Duration
2 hours
Report this resource to TPT