Spanish Clothing Boom Cards, Spanish Digital Flashcards, Task Cards, Ropa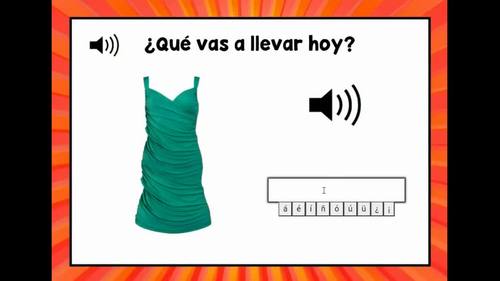 ;
2

nd

- 12

th
,
Higher Education
,
Adult Education
,
Homeschool
Compatible with Digital Devices
The Teacher-Author has indicated that this resource can be used for device-based learning.
What educators are saying
This is an excellent resource! You do a wonderful job of creating this material! I love your Boom Cards!
Description
Do your students struggle to master Spanish clothing vocabulary? These 3 leveled sets of 150 Spanish Boom Cards digital flashcards will help your students master 50 vocabulary words about la ropa. These Spanish Boom Cards are digital, self-correcting, 100% in the target language, and include native speaker sound files to improve student pronunciation.
So easy to use! Just send the link and your job is done. Perfect for Spanish sub plans!
Includes 2 levels for each of the 3 sets - perfect for fast finishers, advanced students, and heritage speakers.
Set 1 (50 flashcards):
Students listen to the sentence and select the photo that corresponds with the item of clothing.
Set 2 (50 flashcards):
Students listen to 4 Spanish clothing items and choose the correct one based on the photo. Great listening practice and helps with student pronunciation! Students can listen as many times as they'd like.
Set 3 (50 flashcards):
Students listen to a clothing item in Spanish and then spell the word. Perfect for listening and spelling practice!
Level 1 Vocabulary:
abrigo, botas, calcetines, camisa, camiseta, falda, gafas, gorra, gorro, guantes, impermeable, mitones, pantalones, pantalones cortos, pijamas, ropa interior, sandalias, sombrero, sudadera, suéter, traje de baño, vaqueros, vestido, zapatillas, zapatos
Level 2 Vocabulary:
anillo, aretes, bata de baño, bikini, blusa, bolsa, bufanda, camiseta sin mangas, chaleco, chanclas, cinturón, collar, conjunto, corbata, gafas de sol, joyería, mallas, pantuflas, pulsera, reloj, sandalias, sostén, smoking, tacones, traje.
** You will need to create a free Boom Learning account to access these flashcards - it's super easy to set up an account.
Looking for other types of Spanish clothing flashcards?
Interactive Notebook Clothing Flashcards
Teaching Duration
90 minutes
Report this resource to TPT