Spanish Clothing La ropa PowerPoint and Curriculum Distance Learning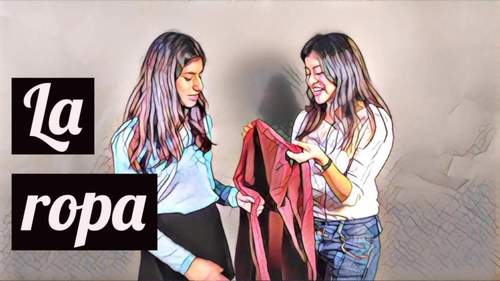 ;
Zip

Google Apps™
Includes Google Apps™
The Teacher-Author indicated this resource includes assets from Google Workspace (e.g. docs, slides, etc.).
Description
To see a video preview of the Google Drive in action, click here: Spanish Clothing Google Drive Activity
This bundle includes everything you need to teach the Spanish clothing and colors vocabulary in context: PowerPoints, video, bell ringers, competitions, projects, interactive notebook activities, Google Drive activities, student handouts, listening activities, Bingo games, and Google slides digital versions of all resources for use in Google Classroom, other Google platforms and distance learning
Click on the following link if you would like all the resources below AND the no-prep lesson plans: La ropa No-Prep Lesson Plans and Curriculum
Spanish Clothing La ropa PowerPoint and Curriculum includes the following resources:
~130-slide La ropa PowerPoint with engaging visuals and animation of clothes, colors, and related expressions including questions for checking for understanding
~Four Bell Ringer PowerPoints
~37-slide PowerPoint Competition in which students answer questions about the pictures using complete sentences
~Clothing Project, PowerPoint Instructions, Rubric
INTERACTIVE NOTEBOOK ACTIVITIES
~Interactive Notebook Activity in which students listen to the script, choose the correct item of clothing and color it in according to what they hear
~Script for Listening Activity
~Audio of Script for Absent Students
~Interactive Notebook Activity in which students write the name of the item of clothing in Spanish
~Activity in which students write the Spanish name and color under the picture of the article of clothing
~PowerPoint Answers
~SPANISH CLOTHING GOOGLE DRIVE ACTIVITIES that begins with recognition and progresses to student production of words, then sentences.
~Clothing INB in which students glue in the clothing they wear in the winter and, on another page, the clothing they wear in the summer, then write the Spanish name for each article of clothing
~Colors Student Handout with gender and number agreement
~Student Handout of la ropa, colors and related clothing vocabulary
~Clothing Test and Answers
~Video La ropa in which Susana, Melanie, Óscar, and Isaías talk about clothes. Susana and Melanie go shopping. The video uses many of the vocabulary words and phrases in the student handout
~Script and Student Activities
~Paired Activity in which students ask each other questions based on the visuals, (¿Qué lleva….? ¿Qué compra…? ¿Cuánto cuesta(n)?) and record their partner's answers
~Spanish Clothing Bingo Bingo Guide, Script
THIS CURRICULUM IS INCLUDED IN THE FOLLOWING MONEY-SAVING BUNDLES:
Spanish Clothing La ropa Lesson Plans and Curriculum
To receive freebies and updates on new products, click the green, "Follow Me" star next to my logo.
*********************************************************************************************************************************
OTHER PRODUCTS THAT MAY INTEREST YOU:
Spanish Food PowerPoint and Curriculum
La familia y los adjetivos posesivos Lesson Plans and Curriculum
Report this resource to TPT