Spanish Comparisons Los comparativos y superlativo Spanish Video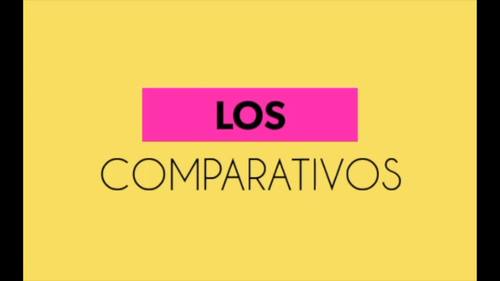 ;
Also included in
41 Spanish Videos for Comprehensible Input for all levels from beginners to advanced: Spanish One, Two, Three, and FourWhat's better comprehensible input than conversation with a native speaker? Videos of native speakers with Spanish subtitles AND overlaid visuals and animation to aid in comprehens

Price $98.30

Original Price $141.29

Save $42.99

Save over 25%! If you would like to test-drive the Todos Preparados Spanish 1 and 2 curriculum and lesson plans before buying the year-long bundle, purchase the first two weeks of Spanish One Lesson Plans and Curriculum or other Topical Lessons. NO TEXTBOOK NEEDED! However, you may use this curricu

Price $687.00

Original Price $804.85

Save $117.85

These No-prep Lesson Plans and Curriculum include the textbook, the lesson plans and every resource needed to teach Spanish One, Two, and Three.Save $176 by buying the bundle. That's 15% off! ★ If you would like to test-drive the lesson plans before buying, you may purchase component lesson plans b

Price $996.00

Original Price $1172.55

Save $176.55

18 Spanish Videos covering Spanish Two concepts and vocabulary for more than 25% off! What's better comprehensible input than conversation with a native speaker? And digital versions of the activities are included for 1:1 classrooms or distance learning.Videos of native speakers with Spanish subtit

Price $47.30

Original Price $66.74

Save $19.44

31 videos providing comprehensible input for the vocabulary and concepts in Spanish One and Two with native speakers and Spanish subtitlesWhat's better comprehensible input than conversation with a native speaker? Videos of native speakers with Spanish subtitles AND overlaid visuals and animation to

Price $89.45

Original Price $99.94

Save $10.49

Spanish One, Two and Three Lesson Plans are aligned with National Standards (World Readiness Standards for Learning Languages - The 5 Cs: Communication, Cultures, Connections, Comparisons, and Communities), the ACTFL Proficiency Guidelines and Can-Do Statements, and the California World Language Con

Price $1179.00

Original Price $1384.85

Save $205.85

NO PREP! NO BOOK! Teach, correct, and go home! Todos preparados Spanish 2 Lesson Plans and Curriculum for High School is a complete textbook but may be used in conjunction with another textbook. Everything you need to teach Spanish Two is in this bundle: Lesson Plans, PowerPoints, TPRS Stories and

Price $365.00

Original Price $450.78

Save $85.78

NO PREP! NO BOOK! These resources are complete textbooks but may be used in conjunction with another textbook. Everything you need to teach Spanish Two and Three is in this bundle: Lesson Plans, PowerPoints, TPR Stories and comprehensible input, homework, tests and quizzes, videos, interactive noteb

Price $645.00

Original Price $811.78

Save $166.78

This No-prep curriculum has over 9,202 PowerPoint slides, over 3,519 documents, 28 videos, and digital versions for 1:1 classrooms and distance learning. Most PowerPoints are complete lessons. Everything you need to teach Spanish Two, Three and AP is included. Why spend thousands of dollars on tex

Price $869.00

Original Price $1015.98

Save $146.98

Spanish One, Two and Three Lesson Plans are aligned with National Standards (World Readiness Standards for Learning Languages - The 5 Cs: Communication, Cultures, Connections, Comparisons, and Communities), the ACTFL Proficiency Guidelines and Can-Do Statements, and the California World Language Con

Price $1250.00

Original Price $1431.34

Save $181.34

The Todos preparados No-prep Lesson Plans and Curriculum include the textbook, the lesson plans, and every resource needed to teach Spanish One, Two, Three, and *Four. Teach, correct, and go home! These lesson plans are aligned with National Standards (World-Readiness Standards for Learning Language

Price $1222.00

Original Price $1429.45

Save $207.45

Todos preparados lesson plans do everything for you. Teach, correct, and go home. Spanish One, Two, Three, *Four, and AP Lesson Plans are aligned with National Standards (World-Readiness Standards for Learning Languages - The 5 Cs: Communication, Cultures, Connections, Comparisons, and Communities),

Price $1435.00

Original Price $1696.79

Save $261.79

These lesson plans do everything for you. Teach, correct, and go home. Spanish One, Two, Three, *Four, and AP Lesson Plans are aligned with National Standards (World-Readiness Standards for Learning Languages - The 5 Cs: Communication, Cultures, Connections, Comparisons, and Communities), the ACTFL

Price $1435.00

Original Price $1754.89

Save $319.89
Description
Making comparisons in Spanish: This video and activities provide comprehensible input and practice for the Spanish comparisons and superlative. In the first video, Rodrigo compares the two soccer players, Cristiano Ronaldo and Lionel Messi. He uses the expressions, "más...que / menos que.../ mejor que.../ peor que / tan...como / tanto como / tantos como".
In the second video, four students talk about who is the tallest, the most intelligent, the most artistic and which teacher is the most interesting using the Spanish superlative structure. Student practice activities are included as well as digital versions of all activities for distance learning.
What's better comprehensible input than conversation with a native speaker? Videos of native speakers with Spanish subtitles AND overlaid visuals and animation to aid in comprehension, with music and corresponding activities for recycling and repetition of vocabulary and concepts.
THIS PRODUCT INCLUDES THE FOLLOWING RESOURCES:
Two Student Handouts "el comparativo" explaining how to make comparisons using "verbo + tanto como, tan + adverbio como," and "sustantivos" and "más que, menos que, tan + adjetivo como, mayor que, menor que, mejor que, peor que"
Four practice activities in which students answer questions (¿Corres tan rápido como un león?), complete the sentences, and write sentences saying they have as many things as other people (Tengo tantos cinturones como Miguel.)
Video scripts with vocabulary
Video Activities in which students write, "cierto" or "falso," make comparisons by completing the sentences, and do a Google search about Cristiano Ronaldo and Lionel Messi, then answer the questions about them.
Activity in which students write sentences using the superlative structure to say who is the most, least, best, worst
Superlative video activities in which students watch and listen to the video, then complete the sentences and answer comprehension activities
Answers to all activities
Google Slides digital versions for use in Google Classroom, other Google and digital platforms, and distance learning
To see a sample of the video, click here: Los comparativos y el superlativo Video
THESE VIDEOS ARE INCLUDED IN THE FOLLOWING MONEY-SAVING BUNDLE: Spanish Videos for Comprehensible Input
To receive freebies and notifications of new products, click HERE to follow my store!
**************************************************************************************************************************************************
OTHER PRODUCTS THAT MAY INTEREST YOU
Spanish Preterite Imperfect Videos
Spanish Stem-changing Verbs Video
Total Pages
1 Video; 6 Word documents
Teaching Duration
30 minutes
Report this resource to TPT