Spanish Counting Activities: Cupcake English and Spanish Number Matching!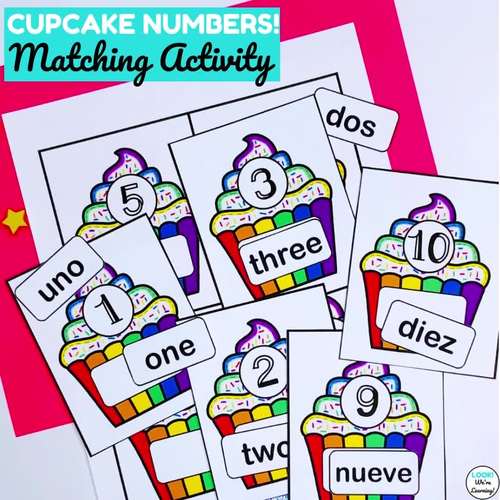 ;
Also included in
Cute Cupcakes! Early Literacy and Math BundleTurn cupcakes into an early education theme for your class with this cupcake-themed early literacy and math bundle!This 50-page product includes:⭐Cupcake Size Differentiation Worksheets (in both color and line art)⭐Cupcake Uppercase and Lowercase Letter M

Price $7.20

Original Price $9.00

Save $1.80
Description
Teach students to recognize number words up to twenty in both English and Spanish with this Cupcake Numbers! English and Spanish Number Matching Activity! Perfect for adding to your list of Spanish counting activities!
This 26-page product includes:
⭐ 20 Color Cupcake Number Cards
⭐ Two pages of English and Spanish number word labels
⭐ 20 Line Art Cupcake Number Cards
⭐ A full answer key
⭐ Detailed suggestions for use, including a teaching script
⭐ And a set of instructions!
Laminate these and use them with hook and loop coin stickers at math centers!
Or let students write the correct English or Spanish number word on each numeral cupcake with dry erase markers!
✧✧✧✧✧✧✧✧✧✧✧✧✧✧✧✧✧✧✧✧✧✧✧✧✧✧✧✧✧✧✧✧✧✧✧✧✧
Love these? Try some of my other early math resources!
✨Ice Pop Patterns Math Patterns Activity
✨Candy Bag Skip Counting Activity
✨Counting Crows Write and Wipe Addition Cards
✧✧✧✧✧✧✧✧✧✧✧✧✧✧✧✧✧✧✧✧✧✧✧✧✧✧✧✧✧✧✧✧✧✧✧✧✧
Claim Your TPT Credits!
Go to your My Purchases page. Click Provide Feedback to leave me a quick rating! Every time you leave feedback, you get a credit toward future TPT purchases! Woohoo!
Get on the List!
Click the green Follow Me link next to my store logo to be the first to learn about new products I share!
Report this resource to TPT