Spanish Cultural Lesson & Childhood Games Around the World - Juegos Infantiles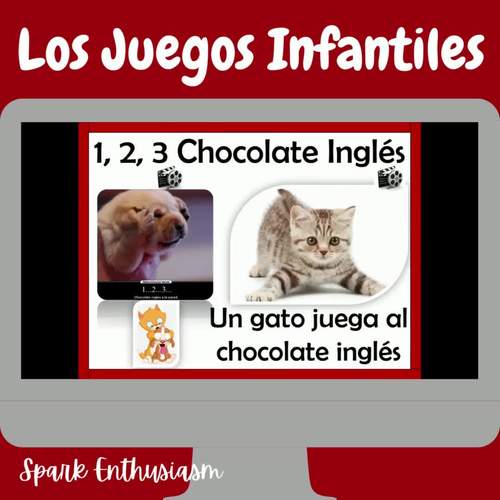 ;
Description
Teach your students amazing and fun childhood games from Spanish-speaking countries with this memorable cultural lesson.  Add to that the chance to learn about the children who come to the United States seeking asylum and your students will never forget this well-planned and organized lesson.    
This excellent lesson begins with immigration facts and vocabulary and background information about migrant children.  Then, students watch an informative and moving video about the lives of young asylum seekers in their quest for the American dream.  There are questions and answer keys to accompany the documentary.
*The documentary is free on YouTube. It can easily be watched in class or online. The questions are included in the product as a Word document, a PDF and there is also a Google Doc link included. #DistanceLearningTpT
Perfect for social justice unit! Justicia Social. Desafios Mundiales, Soluciones, Paz
Next, the Power Point and Word documents include images, videos, and information about the need for ALL children to be able to be safe, receive a quality education and have opportunities to play like children should.  Each of the fun childhood games has adorable videos that demonstrate children of all pages playing these games.
Finally, there are popular childhood games from several Spanish-speaking countries so your students can interact using Spanish while learning fun games played by children in the Spanish-speaking world. These games can also be played at home. Students can teach the games to family members and video them as an online learning assignment.
We have also included a sign up sheet for groups of kids to teach the games to the class along with important vocabulary to use while teaching each individual game.
All of the included games are in the Power Point and have videos that explain them as well as images to support the Spanish used.  All of the games that have chants and refrains have slides and word documents with these chants and refrains. This lesson is an all-star with our students and they ask to play these games constantly.  These included Juegos Infantiles are also perfect for brain breaks and to get kids out of their seats moving and motivated! niños migrantes, inmigración, sueño americano
Los Juegos Infantiles en esta lección -
Casa, Inquilino, Terremoto
1, 2, 3 Chocolate Inglés
Simón Dice
Chicle Americano
¿Qué hay en la bolsa?
Roca, papel y tijeras
Choco La La
Tris trás
En la calle 24
A la víbora del mar
La Gallinita Ciega
Frutillita
Check out our first Childhood Games in Spanish too!
Teachers Like You Are Saying:
⭐⭐⭐⭐⭐ These games are super fun, love the organization on the website. The activities were great and it provided a meaningful perspective and lesson for my students. Thank you!
Click here for the money-saving BUNDLE with more than 40 AP video activities organized by theme!
See all of our most popular and best seller games!
Visit our Spanish-speaking countries, holidays, and culture section on our website!
Spark Enthusiasm Spanish and Hispanic Culture and Holidays!
ALL of our movie packets with tons of resources are here!
ALL sparkenthusiasm movie guides
Let's connect! We would love to hear from you!
Have a great school year!
Report this resource to TPT