Spanish Expressions Unit -Expresiones, Refranes y Modismos - Sí se puede, Eso es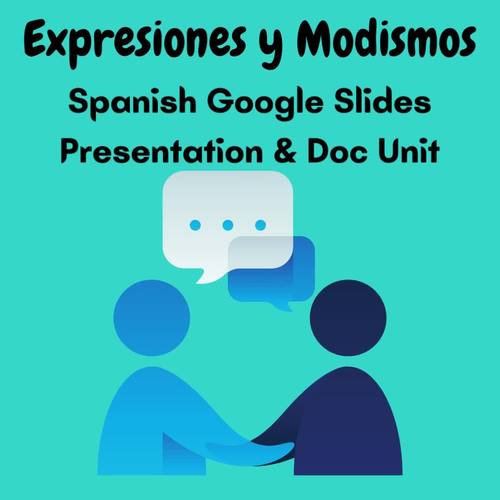 ;
Zip

Google Apps™
Includes Google Apps™
The Teacher-Author indicated this resource includes assets from Google Workspace (e.g. docs, slides, etc.).
Description
Are you looking for fun attention grabbers to use at the beginning of your Spanish classes each day? Teach these FUN Spanish expressions to get students to use authentic Expresiones, Refranes y Modismos as they communicate. Introduce one new expression each day or a few at a time.
There are common expressions as well as many that are organized by theme: Expresiones con Animales, Expresiones con Partes del cuerpo, Expresiones con Comidas & Expresiones con Ser y Estar.
Included: Google Slides presentation with 70 Expressions plus comprehension activities, seven video links to reinforce or introduce the expressions, and Google docs activities. There are 152 Google slides and 16 pages in the Google docs.
There are 14 groups of expressions in this editable Spanish brain break or warm-up product!
~ Common Expressions - Some Examples include:
¡Eso es!
No me digas.
¡Ya! ¡Basta!
¡Uf! ¡Qué pena!
¡No puedo más!
¡No veo la hora!
Me cuesta.
En un abrir y cerrar de ojos
~ Animal Expressions - Examples include:
¡Qué burro!
Tener memoria de elefante
Comer como pajarito
Ser la oveja negra
Es gallina.
~ Food Expressions - Examples include:
Eso es pan comido.
Estás hasta en la sopa.
Estar como zanahoria
Es un bombón.
¡Guácala!
Cuando hay hambre, no hay pan duro.
~ Body Parts Expressions - Examples include:
Echar una mano
Ojo por ojo. Diente por diente.
¡Cierra el pico!
Cuesta un ojo de la cara.
El que tiene boca se equivoca.
~ Ser & Estar Expressions - Examples include:
Así es la vida.
El mundo es un pañuelo.
No es oro todo lo que reluce.
Make a bulletin board, present the Google slides presentation, watch the videos so your students always remember them and assess student learning with the practice activities included with each set of expressions.
This Spanish expressions conversation mini-unit is perfect for warm-ups, brain breaks, reading comprehension, and to get your students speaking in Spanish.
These expressions and comprehension checks are a great way to encourage everyone to participate in class activities.
We have also included editable Google Doc vocabulary lists and worksheets with all of the expressions listed in Spanish and English, as well as a Spanish only and English only for the students to complete.
This is the perfect no-prep resource for your Middle School Spanish, Spanish 1, Spanish 2, Spanish 3, Spanish 4, AP Spanish and IB Spanish classes!
See all of our most popular and best seller games!
ALL of our movie packets with tons of resources are here!
ALL sparkenthusiasm movie guides
For high quality Back to School resources, please visit BACK TO SCHOOL
Let's connect! We would love to hear from you!
Have a great school year!
Report this resource to TPT