Spanish Family Feud Game - Body Parts, Health & Doctor's Office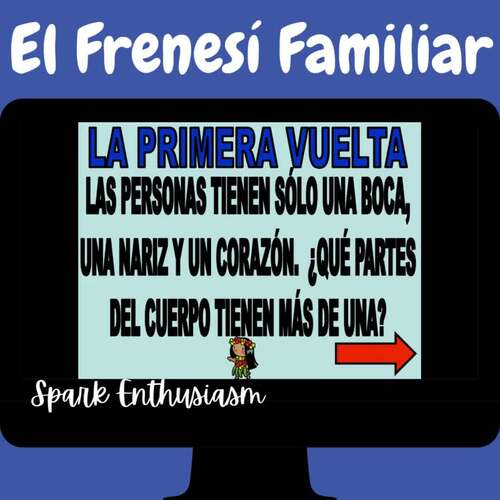 ;
6

th

- 12

th
,
Higher Education
,
Adult Education
Also included in
Use this fantastic Partes del Cuerpo bundle to teach Body Parts to all levels of Spanish classes! Health, doctor's office, Reflexive verbs, and medical themes are also included. There are Power Points, Family Feud games, coloring pages, notes, quizzes, practices, games, a song and more! These are

Price $29.96

Original Price $37.45

Save $7.49
Description
This 34 slide Spanish Family Feud Game - El Frenesi Familiar - is a great way to review body parts, health and doctor's office topics in Spanish with elementary, middle school, high school, or college students. This Family Feud is a fun, interactive game that involves the entire class reviewing Spanish body parts, health and doctor's office vocabulary.
There are five rounds of questions with 8 possible answers each. Each of the rounds is set up Family Feud style with 3 strikes - includes buzzing sound.
There are also five Fast Money Questions with one definite answer per question. There is also theme song music embedded along with other music and sounds such as the "ding" with each correct response.
This Power Point can be easily modified to best meet the needs of your students.
Included in the .zip file is the game template along with instructions for playing the game.
Also included are all of the questions and answers typed out in Spanish for the teacher to reference as he/she acts as the host of this game show.
Please note that the special effects will only work in Power Point 2003 and higher. Also, this power point was created using a PC not a MAC. It is only recommended for a PC. The animation will NOT work in Google Slides.
In the notes section of the Power Point there are additional instructions on how the game works. Please feel free to contact us at www.sparkenthusiasm.com any time with questions or comments!
Again, please note that the special effects included in this game will only work in Power Point 2003 and higher.
If you like this game, please check out the other Family Feud games also available at the sparkenthusiasm store on TPT. These games cover the following topics:
Sports, Hispanic Athletes, and Action Verbs
Clothing, Stores, Materials and Colors
Family, Pets, and Descriptive Adjectives
Classroom Objects, School, and Classes
Reflexive Verbs, Body Parts, and Daily Routine
See all of our most popular and best seller games!
Let's connect! We would love to hear from you!
Have a great school year!
Report this resource to TPT