Spanish Food La comida Google Drive Activities Distance Learning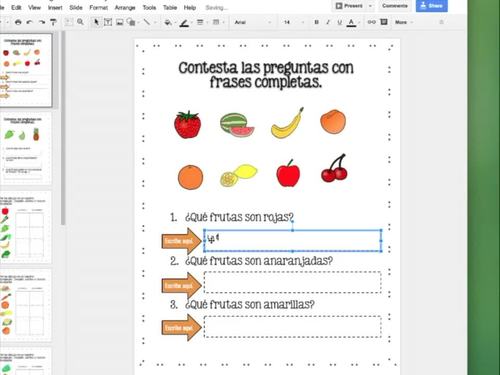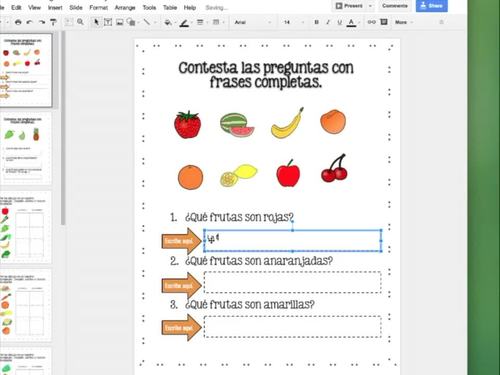 Created By
Angie Torre
Also included in:
Save over 20% by buying all thirty-seven Spanish Google Drive Activities in one bundle. These activities are great for online or distance learning!My students LOVE working on Digital Interactive Notebook Activities so I plan to continue creating them. This product is a growing bundle. Every time I

$133.37

$105.03

Save $28.34
Product Description
These hands-on digital activities keep students on task and 100% engaged as they learn to talk and write about food and drinks, what they like and don't like, what they eat for breakfast, lunch, and dinner, and what foods are good for you and bad for your health. Google Drive Activities are great for online or distance learning!
To see the Google Drive Activity in action, click here: Spanish Food Google Drive Activity
La comida Google Drive Activities include the following resources:
10-SLIDE DIGITAL INTERACTIVE NOTEBOOK ACTIVITIES
~PowerPoint instructions for the teacher
~Activities in which students answer questions about the fruit using complete sentences
~Activities in which students move the food items to the appropriate boxes (verduras, frutas, bueno para la salud, malo para la salud) and then write the Spanish name underneath
~Activity in which students write the name of the food item under the image
~Activities in which students answer questions about food, "¿Qué comes en el desayuno, el almuerzo, la cena? ¿Qué postre te gusta mucho? ¿Qué comes para la merienda? ¿Qué comida es buena /mala para la salud? ¿Qué bebidas son buenas para la salud?
~PowerPoint answers to all slides
Click here for the Spanish Food PowerPoint and INB Activities
These activities are included in the following money-saving bundle: Spanish Google Drive Activities
And this bundle: Spanish Food PowerPoint and Curriculum
To receive freebies and notifications of new products, click HERE to follow my store!
If you would like the interactive notebook activities as well, click here: Food INB and Google Drive Activities
You may also be interested in Spanish Video La ropa
Click here for the Spanish Places Google Drive Activity
Teaching Duration
30 minutes
Report this Resource to TpT