Spanish Formal Commands Game and Review Los Mandatos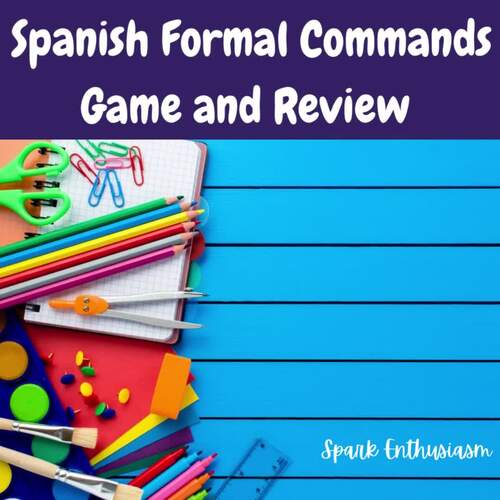 ;
Also included in
This money-saving Best Ever Spanish Electronic Games Bundle includes an awesome Family Feud Game Template, El Frenesi Familiar Game (Spanish Family Feud) that reviews family, pets, and descriptive adjectives, a fun Jeopardy game template, a $100,000 pyramid vocabulary game, an amazing Sanfermines Sp

Price $28.00

Original Price $34.98

Save $6.98

This well-organized printable and digital 196 slides/pages Spanish Commands Unit unit is a FUN & interactive way to teach students the Formal, Informal, Nosotros, Vosotros, Nosotros, Affirmative and Negative Commands. This interactive unit includes grammar notes with many examples for all type

Price $21.50

Original Price $26.97

Save $5.47
Description
This 14 slide Power Point Presentation is a great way to begin class, to get your students moving, and to review classroom commands! The presentation includes commands in the Uds. form. The students are divided into teams, and they must get out of their seats to demonstrate their understanding of these commands. The teacher can use this presentation as a game to see which half of the class performs the actions the best and/or the fastest.
In addition, there is a worksheet that reviews the formation of formal commands included with this product.
Also included within this Power Point are a variety of sounds and animations. This is a fun warm-up or a quick assessment for beginning and intermediate classes!
There is another version of this game/interactive activity also available at the sparkenthusiasm store on TPT.
https://www.teacherspayteachers.com/Product/Spanish-Commands-Game-Awesome-Review-20-slides-101845
Included with this product (Summary):
1)Power Point Presentation with 14 slides. The presentation is animated and includes a variety of fun sounds, songs, and animation.
2) Also included are detailed teacher instructions for how to play this game.
3) One page of command formation review notes (Los Mandatos) for the students is also included.
What Teachers Like You Are Saying:
⭐⭐⭐⭐⭐ Exactly what I was looking for, something fun that would help them to remember commands.
⭐⭐⭐⭐⭐ This worked really well when I needed to review this concept with my intermediate students - thank you!
⭐⭐⭐⭐⭐ This was a great PowerPoint. The unexpected noises really had my students paying attention. It was great!
See all of our most popular and best seller games!
Let's connect! We would love to hear from you!
Have a great school year!
Report this resource to TPT