Spanish Gustar Video Puppet Shows Distance Learning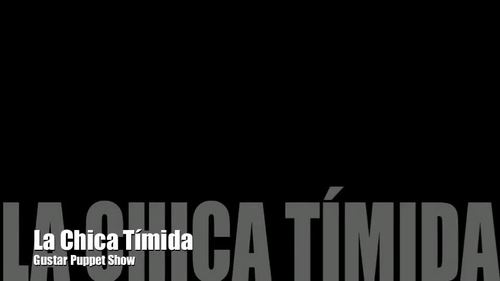 ;
Also included in
★ ★ All my Illustrated TPR Spanish Stories in one bundle! Save $15 by buying them all together! Hook students into the lesson with compelling stories! There are 19 PowerPoint stories including the four stories in the bonus files. ✅ The Spanish TPRS Story PowerPoints and Comprehensible Input repeat

Price $37.75

Original Price $55.00

Save $17.25

★ Save 25% by buying all my Spanish TPR Stories and comprehensible input in one bundle. They include illustrated TPR Story PowerPoints, dialogues, puppet shows, videos, readings, cloze activities, and comprehension activities.Click here to see a video of how to tell a story using TPR Story-Telling

Price $62.00

Original Price $75.50

Save $13.50

I get 100% student engagement when I show these videos! In this bundle are 41 kid-tested Spanish Videos for students that provide Comprehensible Input for all levels from beginners to advanced: Spanish 1, 2, 3, and 4.What's better comprehensible input than conversation with a native speaker? Spanis

Price $98.30

Original Price $144.29

Save $45.99

Having trouble finding authentic Spanish videos for beginners that students can understand? These Spanish One videos provide great comprehensible input because students not only HEAR the words but see them written. Actors are native speakers and speak naturally, but slowly enough for students to un

Price $32.42

Original Price $44.90

Save $12.48

Writing lesson plans is the most difficult, time-consuming part of a teacher's day. These yearlong Spanish 1 Lesson Plans and Curriculum do everything for you and serve as a complete Spanish 1 textbook with ancillary materials, no-prep lessons, and all resources needed to teach upper elementary, mid

Price $365.00

Original Price $515.47

Save $150.47

Save over 25%! If you would like to test-drive the Todos Preparados full-year Spanish 1 and 2 curriculum and lesson plans before buying the year-long bundle, purchase the first two weeks of Spanish One Lesson Plans and Curriculum or other Topical Lessons. NO TEXTBOOK NEEDED! However, you may use th

Price $687.00

Original Price $819.85

Save $132.85

These No-prep Spanish Lesson Plans and Curriculum include the textbook, the lesson plans, and every resource needed to teach Spanish One, Two, and Three.Spanish 1, 2, and 3 curriculum is kid-tested and refined during 30 years of teaching. Lesson plans include comprehensible input, TPR Stories, video

Price $996.00

Original Price $1184.85

Save $188.85

18 Spanish Videos covering Spanish Two concepts and vocabulary for more than 25% off! What's better comprehensible input than conversation with a native speaker? And digital versions of the activities are included for 1:1 classrooms or distance learning.Videos of native speakers with Spanish subtit

Price $47.30

Original Price $66.94

Save $19.64

31 videos providing comprehensible input for the vocabulary and concepts in Spanish 1 and 2 with native speakers and Spanish subtitlesWhat's better comprehensible input than conversation with a native speaker? Videos of native speakers with Spanish subtitles AND overlaid visuals and animation to aid

Price $89.45

Original Price $101.24

Save $11.79

Spanish One, Two, Three and AP Lesson Plans are aligned with National Standards (World Readiness Standards for Learning Languages - The 5 Cs: Communication, Cultures, Connections, Comparisons, and Communities), the ACTFL Proficiency Guidelines and Can-Do Statements, and the California World Language

Price $1179.00

Original Price $1402.35

Save $223.35

NO PREP! NO BOOK! Teach, correct, and go home! Todos preparados full-year Spanish 2 Curriculum and Lesson Plans for High School is a complete textbook but may be used in conjunction with another textbook. Everything you need to teach Spanish Two is in this Spanish curriculum bundle: Lesson Plans, P

Price $365.00

Original Price $460.08

Save $95.08

Spanish One, Two and Three Lesson Plans are aligned with National Standards (World Readiness Standards for Learning Languages - The 5 Cs: Communication, Cultures, Connections, Comparisons, and Communities), the ACTFL Proficiency Guidelines and Can-Do Statements, and the California World Language Con

Price $1250.00

Original Price $1447.60

Save $197.60

The Todos preparados No-prep Lesson Plans and Curriculum include the textbook, the lesson plans, and every resource needed to teach Spanish One, Two, Three, and *Four. Teach, correct, and go home! These full-year lesson plans are aligned with National Standards (World-Readiness Standards for Learnin

Price $1222.00

Original Price $1441.75

Save $219.75

The Todos preparados year-long Spanish curriculum and lesson plans do everything for you. Teach, correct, and go home. Spanish One, Two, Three, *Four, and AP Lesson Plans and Curriculum are aligned with National Standards (World-Readiness Standards for Learning Languages - The 5 Cs: Communication, C

Price $1435.00

Original Price $1712.60

Save $277.60

These full-year lesson plans do everything for you. Teach, correct, and go home. Spanish One, Two, Three, *Four, and AP Lesson Plans are aligned with National Standards (World-Readiness Standards for Learning Languages - The 5 Cs: Communication, Cultures, Connections, Comparisons, and Communities),

Price $1435.00

Original Price $1768.39

Save $333.39
Description
Puppet shows are a great way to provide dialogue in the classroom, as opposed to teacher monologue. However, when the teacher is reading the script, who is looking at the students?
These Spanish Gustar Puppet Shows allow the teacher to monitor the class while the students watch the show and they provide comprehensible input and repetition in context of the verb, "gustar" and accompanying expressions such as, "también, tampoco, a mí, a ti, Me encanta, No me gusta nada, no me gusta ni…ni.." and others. Digital versions of the script and activities are included for distance learning.
The Spanish Gustar Puppet Shows include the following:
Scripts of the puppet shows.
Two true/false competitions
Google Slides digital versions of the script and activities for use in Google Classroom, other Google and digital platforms, and distance learning
THIS RESOURCE IS INCLUDED IN THE FOLLOWING MONEY-SAVING BUNDLE:
Spanish Gustar Encantar Lesson Plans and Curriculum
To receive free resources, discounts, and notifications of new products, click on the following link to follow my store: ANGIE TORRE
****************************************************************************************************
OTHER PRODUCTS THAT MAY INTEREST YOU:
Gustar PowerPoint and INB Activities
Spanish Adjectives Ser Gustar TPR Story
For more TPR Stories, resources and PowerPoints, please visit my website: www.bestpowerpointsforspanishclass.com
Or my Pinterest Boards: http://pinterest.com/asherbody/teaching-resources/
Spanish Gustar Puppet Shows by Angie Torre is licensed under a Creative Commons Attribution 4.0 International License.
Teaching Duration
30 minutes
Report this resource to TPT