Spanish & Hispanic Holidays Pre-AP/AP/IB Activities Bundle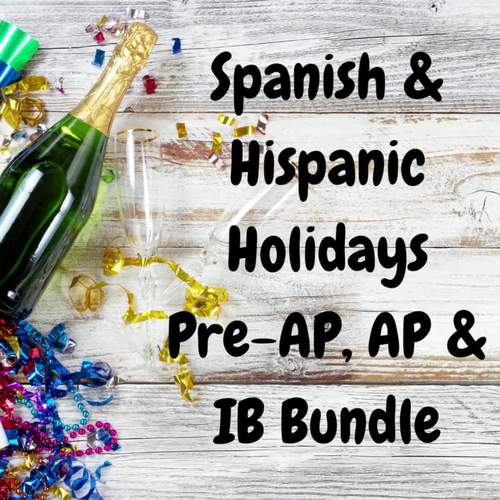 ;
What educators are saying
Holidays are some of my favorite things to teach. Thank you for providing me with great resources for so many of them!
Also included in
This 500+ page AP Spanish Language and Culture Test Prep BUNDLE includes many of the resources and materials we use in our upper level Spanish classes to prepare students for AP Spanish and IB Spanish assessments. We are proud that 100% of our students pass the AP Spanish and IB Spanish tests with

Price $86.00

Original Price $107.95

Save $21.95
Description
Are you looking for no-prep Pre-AP, AP, and IB Holiday resources for your Spanish classes? This 90+ editable page Spanish intermediate through advanced levels Dias Festivos bundle includes Power Points, articles, information, quizzes, and activities for 9 Hispanic and Spanish holidays. There are resources to teach Nochevieja, las Fallas, los Sanfermines, la Tomatina, el Día de los Reyes Magos, el Día de San Valentín, las Posadas, El Día de los Santos Inocentes, and las Pascuas. The resources in this bundle are EDITABLE and they correspond to complete lessons and videos for all of these holidays.
Visit our website to find all of the videos, the lessons, and the ideas that we use to teach these holidays in our level 2 - 4AP classes. AP students will be ready to do the cultural comparison speaking presentation part of the AP test upon completion of this unit! Also, if you want to plan a holidays around the world event, there are detailed instructions as well as all of the resources needed to do so in this holidays bundle!
This bundle includes:
SPANISH HOLIDAYS (LAS FALLAS, LOS SANFERMINES, LA TOMATINA)
~ These 3 interesting Spanish holidays are taught very well in this packet. This bundle includes a Power Point in Spanish to teach these 3 holidays along with an intermediate reading in Spanish with comprehension questions and answer key. There is also a power point featuring ninots examples for Las Fallas. For more advanced students, we have also included articles/readings about Las Fallas, Los Sanfermines, la Tomatina, Carnaval, Las Posadas, and El Dia de los Santos Inocentes. There are also 2 pages of comprehension questions and answer key that are included. There are quizzes for each of the holidays also. (Las Fallas, Los Sanfermines, and la Tomatina)
NEW YEAR'S EVE
*5 page New Year's resolutions article with comprehension questions and key. Students will learn about online resources in Spanish that are useful for teaching about health issues like weight loss, alcoholism, and smoking cessation, common themes for resolutions. Also, included is a fun New Year's resolutions activity for students to complete. In addition, there is a teacher ideas page with links for related videos and other ideas to teach La Nochevieja.
*This 7 page New Year's Celebrations in Spanish mini-unit includes an article about customs and traditions throughout the Spanish-speaking world, as well as comprehensions questions and key.
~ There are links for many videos such as the Doce Uvas video so students can toast the new year with sparkling grape juice.
*This mini unit also includes:
~ Suggestions in Spanish for New Year's Resolutions for students to share with the class along with toasts in Spanish to practice with classmates
~ A fun worksheet for writing New Year's resolutions!
~ An article about celebrating New Year's Eve in Spain along with various traditions in other Spanish-speaking countries with comprehension questions and an answer key
THREE KINGS DAY
*This packet includes an 8 page Los Reyes Magos articles packet with comprehension questions and key that will be perfect to enrich students' holidays vocabulary and to get a discussion started about holiday traditions in Spanish-speaking countries. Level 3, 4, and 5 students will benefit from the information and timely issues included in this cultural unit.
Also, included is a fun letter writing activity template to the Three Kings.
EASTER/HOLY WEEK
~ This interesting and fun Pascuas information will spark a class discussion about the differences between how Carnaval, Easter and Holy Week are celebrated in Spain and in Latin America.
~ These two articles (one for intermediate and one for advanced classes) and the accompanying comprehension questions and vocabulary will enhance students' reading, writing, listening, interpretive, and speaking skills. This article about Carnaval, Holy Week, and Easter is in Spanish with important vocabulary words already translated for your students. There are also comprehension questions and answer keys. This activity would be a great homework assignment, discussion starter or cultural comparison activity! (It is also EDITABLE so you can modify it for your own classes.)
~ Also, included is a power point in Spanish about the tradition of making alfombras in Spanish-speaking countries at Easter.
VALENTINE'S DAY
~ Spanish article/reading about Saint Valentine's Day (El Día de Amor y Amistad) with comprehension questions and answer key
Visit our website to see some additional Fiestas Españolas Videos that accompany all of the worksheets included in this packet!
Teachers Like You Are Saying:
⭐⭐⭐⭐⭐ Holidays are some of my favorite things to teach. Thank you for providing me with great resources for so many of them!
⭐⭐⭐⭐⭐ Great for my AP group. Interesting and relative to the cultural comparison component of the exam. Thanks!
⭐⭐⭐⭐⭐ Great resource! MANY ideas, articles, and activities to use throughout the year. Easily adaptable for level as well as the items are editable. I had purchased it for use in class, but loved the tips for creating events!
Visit our Spanish-speaking countries, holidays, and culture section on our website!
Spark Enthusiasm Spanish Culture and Holidays!
Spark Enthusiasm Spanish Grammar, Vocabulary and AP resources
Let's connect! We would love to hear from you!
Have a great school year!
Report this resource to TPT