Spanish Personal A, La A Personal Google Forms Activity or Assessment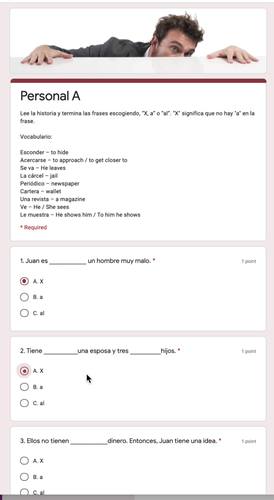 ;
Zip

Google Apps™

Internet Activities
Includes Google Apps™
The Teacher-Author indicated this resource includes assets from Google Workspace (e.g. docs, slides, etc.).
Also included in
One of the most time-consuming tasks is creating tests. These Spanish 2 tests cover all concepts for level 2 and assess students' reading, listening, writing, and speaking proficiency in Spanish. 41 editable, printable and digital assessments including the MIDTERM and FINAL, cloze stories, cloze sen

Price $35.50

Original Price $54.75

Save $19.25

Save over 30% by buying all seventy-five Spanish Google Drive Activities in one bundle. These digital activities are great for online or distance learning! Many printable versions included as well.My students LOVE working on Digital Interactive Notebook Activities so I plan to continue creating them

Price $159.99

Original Price $255.05

Save $95.06

Why spend time creating and correcting your Spanish Tests? This bundle had over 100 tests, quizzes, and worksheets for Spanish 1, 2, and 3, including the MIDTERM and FINAL EXAMS for the entire year. These Spanish activities assess students' proficiency in reading, speaking, listening, and writing in

Price $79.50

Original Price $112.00

Save $32.50

Over 80 assessments and worksheets for an entire year for Spanish One and Two including the MIDTERM and FINAL. These tests and quizzes assess students' ability to read, speak, listen, and write in Spanish. Many visuals aid in comprehension and decrease testing anxiety. The assessments include 318 Wo

Price $61.50

Original Price $98.70

Save $37.20

Why spend time creating and correcting tests? This bundle has 62 editable assessments for Spanish 2 and 3 including written, cloze stories, cloze sentences, listening activities with Spanish speakers (la práctica auditiva), tons of visuals, question/answer, scantron, essay, narration, and attention-

Price $40.00

Original Price $59.05

Save $19.05

Creating and correcting tests and worksheets for Spanish class is time consuming. These Spanish Google Forms activities are self-grading, editable, and fun interactive tests for Spanish One, Two, Three and Four. They can also be used as digital worksheets, homework, practice review activities, or be

Price $65.00

Original Price $114.00

Save $49.00
Description
Students practice the Spanish Personal A and learn the different meanings of AL (la a personal y la preposición a) while reading a story. These activities provide comprehensible input and are editable, self-grading, fun, interactive worksheets or digital assessments that can be used in Google Drive or Google Classroom.
Spanish Personal A Google Forms Activity includes the following resources:
Autocorrecting, editable Google Forms Activity in which students read the story and complete the sentences by choosing X, (No a), a, or al: 17 questions
Self-correcting, editable Google Forms Activity: Version Two with no violence
Autocorrecting, editable Google Forms Activity in which students answer true / false comprehension questions about the story (¿cierto o falso?): 10 questions
Vocabulary for story which includes: esconder, acercarse, se muere, se va, la cárcel, periódico, cartera, una revista, ve
Explains when to use the Spanish Personal A with people and animals
Compares sentences with and without the a personal
Explains and demonstrates how the personal A is used with the direct object, not the subject
Demonstrates the use of the contraction, "al" before the article "el"
Shows the exceptions, "tener, ser, haber"
Explains the difference between, "Llego al teatro" (I arrive AT or TO the class) and "Invito al hombre" (I invite THE man)
#distancelearningtpt
★Spanish Personal A Google Forms Test is included in the following money-saving bundles:
★Spanish Autocorrecting Google Forms Activities Bundle
★Spanish Two Tests and Quizzes
To receive freebies and notifications of new products, click on the following link to follow my store: ANGIE TORRE
________________________________________________________________________________________________________
OTHER PRODUCTS THAT MAY INTEREST YOU
Spanish Personal A PowerPoint TPRS and Activities
Teaching Duration
30 minutes
Report this resource to TPT