Spanish Plural and Singular Nouns and Adjectives PowerPoint and Activities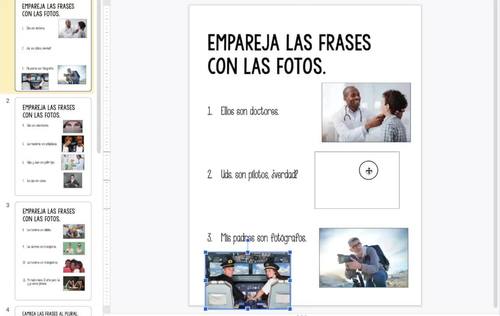 ;
Zip

Google Apps™
Includes Google Apps™
The Teacher-Author indicated this resource includes assets from Google Workspace (e.g. docs, slides, etc.).
Description
Lessons on the plural that teach the Spanish plural words in isolation are ineffective. This 31-slide, "Spanish Plural and Singular Nouns, Adjectives, and Verbs PowerPoint" and Activities teach students how to use the singular and plural nouns, adjectives, and verbs in context. The lessons begin with words and progress to sentences. All of the explanations are in Spanish. In addition to the PowerPoint, resources include interactive notebook activities and Google Drive activities for more practice using Spanish plural words. Appropriate for middle and high school Spanish One. Google Drive and Digital Activities are included. Category: Spanish Grammar
TESTIMONIALS:
"My students loved this!!!! They found it very engaging. "
"Very thorough. Thanks."
 ✅ Spanish Plural and Singular Nouns and Adjectives PowerPoint and Activities include the following:
Spanish plural articles: los, las, unos, unas
Check for understanding
Spanish plural subject pronouns: nosotros, nosotras, ustedes, vosotros, ellos, ellas
Check for understanding
The plural of HAY: Hay un examen hoy. Hay dos exámenes hoy.
Check for Understanding
Plural of the verb SER: Soy morena. Somos morenas. / Él es alto. Ellos son altos.
Check for understanding
Plural of the verb ESTAR: Estoy contento. Estamos contentos. / Tú estás contento. Ustedes están contentos.
Check for understanding
Plural of adjectives and nouns: vocal + s; consonante + es
Check for understanding
Se llama vs. Se llaman
Es vs. Son
Practice in which students write the plural of adjectives, articles and verbs
Practice in which students change singular sentences into plural sentences
Competition in which students change singular sentences into plural sentences
Also included are the following resources:
Interactive Notebook Activity in which students change the singular sentences to plural sentences in Spanish
Spanish Plural Words Student Handout demonstrating plural of articles, nouns, adjectives, verbs, "Ser," and, "hay"
SPANISH SINGULAR AND PLURAL NOUNS AND ADJECTIVES POWERPOINT AND ACTIVITIES ARE INCLUDED IN THE FOLLOWING MONEY-SAVING BUNDLE:
Spanish Verb SER Adjectives and Plurals Lesson Plans and Curriculum
DON'T FORGET TO LEAVE FEEDBACK SO YOU CAN EARN CREDITS FOR FUTURE PURCHASES!
To receive free resources, discounts, and notifications of new products, click on the following link to follow my store: ANGIE TORRE
*********************************************************************************************************
OTHER PRODUCTS THAT MAY INTEREST YOU:
Position of Adjectives PowerPoint
Adjectives Ser Gustar TPR Story
Spanish Adjectives, The Dating Game
Adjetivos Posesivos PowerPoint
For all of my Spanish One Curriculum at a discounted price, click here: Spanish One Curriculum
For more engaging PowerPoints, curriculum and ideas please visit my website: www.bestpowerpointsforspanishclass.com
Los plurales for Spanish One or Spanish Plurals by Angie Torre is licensed under a Creative Commons Attribution 4.0 International License.
Report this resource to TPT