Spanish Present Tense ER and IR Verbs Llama Mía Speaking Activity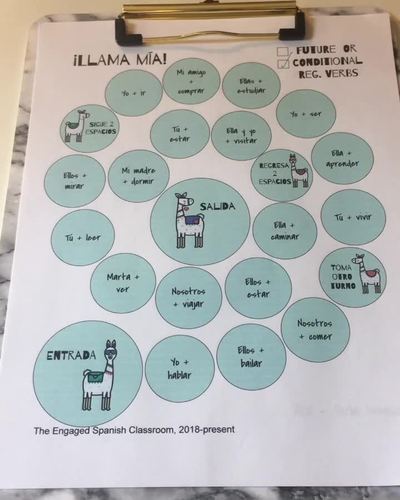 ;
What educators are saying
This game was easy and fun, low prep and clear instructions. Great to review the present tense verbs while speaking!
My students LOVED this game! It was easy to understand and play, yet engaging and challenging. Thank you so much!
Also included in
This is a bundle of my favorite activities for Spanish 1! I have included over 200 presentations, games, speaking activities, cultural activities, readings, projects, and assessments. This bundle is essential for your middle school or high school Spanish class and will support you and your students

Price $325.00

Original Price $465.50

Save $140.50

Thie bundle of speaking activities includes over 50 speaking activities for Spanish class, as well as editable templates for Llama Mía and Citas Cortas. I know these activities will get your students speaking in the target language, and they will save you time! :)************************************

Price $75.00

Original Price $103.00

Save $28.00

This is a bundle of all of my Llama Mía activities, as well as the editable templates for the game! These hands on speaking activities are great for all levels of Spanish class in middle or high school. I know this will get your students speaking in the target language and save YOU time!************

Price $35.00

Original Price $45.00

Save $10.00

This is a bundle of 10 of my favorite activities for Spanish 1! Try new things in your class while also testing out my different activity lines! The topics include present tense regular and irregular verbs, the verb gustar, ser and adjectives, question words, and more! I hope you can find a few new

Price $17.00

Original Price $23.75

Save $6.75
Description
Spanish 1, spanish speaking activity, spanish present tense, spanish -er verbs, spanish -ir verbs, el presente indicativo, spanish regular verbs, el presente, Spanish game, Spanish speaking activity, speaking activities, Spanish oral assessment
**********************************************
Spanish Present Tense of -ER and -IR Verbs Speaking Activity, "Llama Mía"
*Regular Verbs Only*
Need a way to get your students SPEAKING more, and COMPLETELY in the target language!? Give this activity a try, and you and your students will all be hooked! This game board provides 20 opportunities for students to speak in Spanish. Students sit with a partner or small group to roll a die (or use random.org, or the Dice game app) and move along the board by following the prompts they land on. They can only earn the next space by speaking aloud to their group!
**********************************************
This game board covers Regular Present Tense ER and IR Verbs
Examples of prompts:
Ella + comer (Example sentence: Ella come el helado)
Nosotros + vivir (Example sentence: Nosotros vivimos en Boston)
**********************************************
DIFFERENTIATION!!
If your students aren't ready for full sentences, or you need a quicker activity, just have them conjugate the verb and move on!
**********************************************
I hope this helps your students to feel CONFIDENT in their Spanish SPEAKING skills!
Check out the preview to get a better look :)
I hope your students love my review activities and games!
Be sure to check out my Taco Tuesday, Dice Games, Tiburones Games, Maracas Sets, and Triangle Puzzles for this level!
Related Products
⭐ Spanish 1 Curriculum Bundle
⭐ Spanish 1 Reading Comprehension BUNDLE
⭐ Spanish 1 Present Tense Interview Activity; AR, ER, and IR Reg / Irregular verbs
⭐ Spanish Present Tense Dice Game
⭐ Spanish Present Tense AR Verbs Citas Cortas Speaking Activity
⭐ Spanish Present Tense Quick Conjugations
⭐ Spanish Present Tense Regular Verbs Puzzle
⭐ Spanish Present Tense Tiburones Game
Let's Connect!
*****************************************************************************************************
How can you get TPT credits to use on future purchases?
Go to your My Purchases page, click Provide Feedback beside a purchase, leave a quick rating and comment.
Each time you provide feedback, you'll earn TPT credits for future purchases!
I appreciate your feedback as it helps me determine which products are most valuable so I can create more for you. ☺
Do you have an idea or request to make this product better?
Send me an email at theengagedspanishclassroom@gmail.com. I'd love to hear from you!

Report this resource to TPT