Spanish Preterite Imperfect Foldable Interactive Notebook & Digital Activities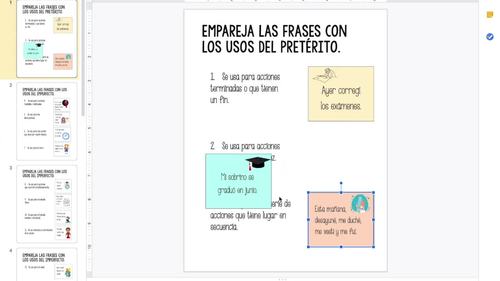 ;
7 slides; 6 Word documents
Description
These pretérito vs. imperfecto Interactive Notebook and Google Drive Activities include the following:
Three foldable pages with imperfect on one side and preterite on the other side. Two are for comparing "el imperfecto y el pretérito" in general. The third one is for comparing the verbs, "tener, saber, poder, conocer, querer" in the two tenses.
Students write sentences under the flaps to represent each use of the imperfect and preterite, and for the different meanings of the verbs, "tener, saber, poser, conocer, querer".
PowerPoint instructions for teacher and students on how to fold, cut, and use the Interactive Notebook Activities.
Student handout on the uses of the imperfect and preterite
Student handout on how the use of imperfect or preterite changes the meaning of the verbs, "tener, saber, power, conocer, querer".
Student handout with the conjugations of all regular and irregular verbs in the imperfect tense
9-slide Preterite vs. Imperfect Google Drive Activities in which students pair the sentences with the uses of the imperfect and preterite, then write their own sentences for each use
Teacher and student PowerPoint instructions
Digital versions of all resources for Google Classroom or any Google platform and for distance learning.
THESE RESOURCES ARE INCLUDED IN THE FOLLOWING MONEY-SAVING BUNDLES:
Imperfect Preterite & INB Activity
Imperfect Preterite Lesson Plans & Curriculum
The use of interactive notebook activities has greatly improved student learning in my classes. If you would like to know more about how to use an interactive notebook in a world language classroom, please visit my blog: Interactive Notebooks in the World Language Classroom
You may also like the all preterite bundle: Spanish Preterite PPTs & Curriculum Bundle
To receive freebies and notifications of new products, click HERE to follow my store!
Total Pages
7 slides; 6 Word documents
Teaching Duration
2 hours
Report this resource to TPT