Spanish Progressive Tenses or Gerund PowerPoint and Activities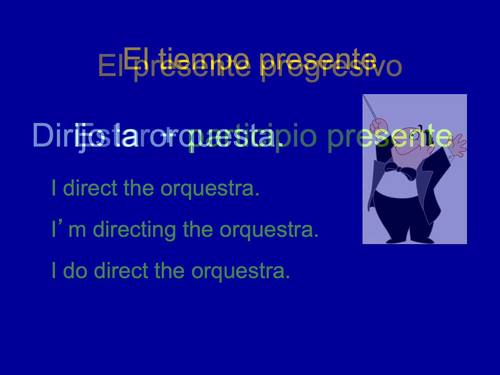 ;
Description
This 69-slide Spanish progressive tense and gerund PowerPoint can be used for Spanish Two, Three, Four and Five grammar lessons as it begins with the present progressive tense, and continues to more advanced tenses, the imperfect, preterite, present perfect, pluperfect / pluscuamperfecto, future, and conditional tenses. Digital versions are included for distance learning.
The PowerPoint is filled with engaging photos and pictures and is a complete lesson plan including explanation, checking for understanding, practice and closure.
The sequence is as follows:
Explanation of the uses of the present tense
Comparison of the present tense to the present progressive / el presente progresivo
Explanation of how to form the gerund
Checking for understanding
Practice
Demonstration of the gerund with one pronoun, with reflexive pronouns, with two pronouns, with the vowel in the stem (creyendo), with "reír, sonreí­r", with -ir stem-changing verbs (diciendo)
Checking for understanding
Practice
Explanation of the gerund with different tenses, imperfect, preterite, present perfect, pluperfect, future, conditional
Explanation of how to use either the gerund or the infinitive with "ver, mirar, oí­r, escuchar,"
Demonstration of the progressive tense or gerund with expressions using, "ir, llevar, seguir"
Check for understanding with funny photos
Practice competition
Paired competition of trivial pursuit using movie and other trivia with photos.
Answers to the Interactive Notebook Activity
Spanish Progressive Tenses PowerPoint and Activities include the following Word documents:
Student Handout / Study Guide for Spanish Two
Student Handout / Study Guide for Spanish Three
Google Slides digital versions for use in Google Classroom, other Google and digital platforms, and distance learning
All answers provided.
SPANISH GRAMMAR
To receive freebies and notifications of new products, click on the following link to follow my store: ANGIE TORRE
*****************************************************************************************************
OTHER PRODUCTS THAT MAY INTEREST YOU:
Spanish Video for the Present Progressive
Mandatos Commands Activities and TPR Stories for Spanish 2, 3, & 4
For other engaging PowerPoints or ideas please visit my website: www.bestpowerpointsforspanishclass.com or see my Pinterest Boards:http://pinterest.com/asherbody/teaching-resources/
OR for a complete list of my products, CLICK HERE My Store
Progressive Tenses or Gerund PowerPoint by Angie Torre is licensed under a Creative Commons Attribution 3.0 Unported License.
Report this resource to TPT