Spanish Se impersonal, Se no intencional No-Prep Lesson Plans and Curriculum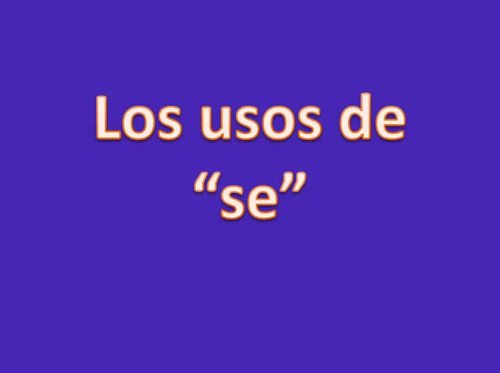 ;
166 Power Point Slides; 64 Word Documents
Description
This curriculum has all the resources you need to teach the Spanish passive voice, the "se impersonal," the "se no intencional, los reflexivos," and all the uses of SE. The 166 PowerPoint Slides and 64 Word documents include 7 lesson plans, PowerPoints, games, bell-work, homework, tests, comprehensible input, paired activities, rubrics and digital versions for distance learning.
Spanish SE Impersonal and Se No Intencional Lesson Plans include the following resources:
The illustrated, 72-slide, "Uses of 'Se'" PowerPoint that covers the following concepts:
Reflexive "se"
"Se" for "each other"
Indirect object pronoun, "se"
Se impersonal
Se no intencional
"Se" para "La voz pasiva"
Se dice PowerPoint (22 slides)
Homework Answers PowerPoints
Seven 90-minute lesson plan on the Spanish Impersonal "se" and the Non-intentional "se" with everything needed for each day's lesson in that day's folder. These lesson plans are based on the EDI model and include:
Learning goals
Attention-getters
Notes to the teacher
Check for Understanding, Guided Practice, Closure
A section for modification for differentiated instruction
PowerPoint Answers to the games and competitions
TPR Story and Comprehensible Input on the "se no intentional" that cements the concept in the students' minds and gives them many examples of the "se impersonal" and "se no intentional" structures in context.
Illustrations for the TPR Story
Student handouts corresponding to the "Uses of Se" PowerPoint
Google Slides digital versions for use in Google Classroom, other Google and digital platforms, and distance learning
To receive free resources, discounts, and notifications of new products, click on the following link to follow my store: ANGIE TORRE
THESE SPANISH SE IMPERSONAL AND SE NO INTENCIONAL LESSON PLANS ARE INCLUDED IN THE FOLLOWING BUNDLE: Spanish Three Lesson Plans
****************************************************************************************************
OTHER PRODUCTS THAT MAY INTEREST YOU:
Spanish Subjunctive Lesson Plans &bCurriculum
Spanish Reflexive Verbs No-Prep Lesson Plans
For more engaging resources and ideas, please visit my website: www.bestpowerpointsforspanishclass.com
Or my Pinterest Boards: https://www.pinterest.com/asherbody/
No-Prep Lesson Plans and Curriculum for the Spanish "Se impersonal & Se no intentional" by Angie Torre is licensed under a Creative Commons Attribution-NonCommercial 4.0 International License.
Total Pages
166 Power Point Slides; 64 Word Documents
Teaching Duration
2 Weeks
Report this resource to TPT