Spanish-Speaking Countries, Capitals, Culture, and Songs Packet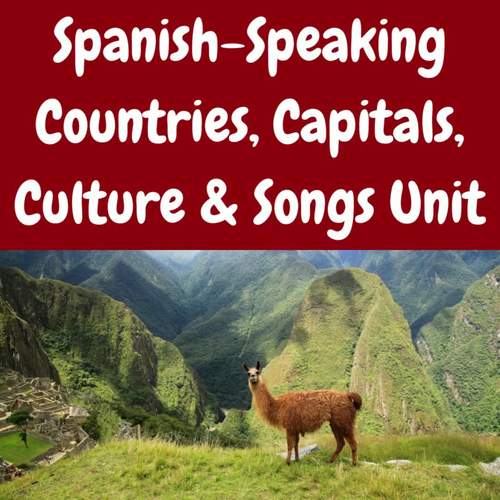 ;
Description
Do you need an easy way to start teaching about Spanish-speaking countries in your Spanish classes? This 59 page Spanish-speaking countries, capitals, nationalities, culture & songs packet AND 31 slide power point includes everything you need to teach about El Mundo Hispano.
Students will have a blast with Hispanic music and great ways to remember all of this important cultural information. This EDITABLE packet has activities for beginning through advanced level Spanish courses along with answer keys.
This packet includes:
~ Spanish-Speaking Countries and Popular Hispanic Singers Information and Activities
*Basic Profiles of Popular Hispanic Artists in Spanish (Includes name, nationality, country of origin, birthday and popular songs - perfect to use while introducing ser or when starting a music unit)
* Basic Questions in Spanish with Answer Key based on the Artists' Basic Profiles
*¿De dónde son los cantantes? Activity with Map Labeling and Answer Key
*Notes on all Spanish-speaking countries, capitals, and nationalities with Practice Fill-In
*Quiz over Countries, Capitals and Nationalities with Answer Key
*Intermediate/Advanced Biographical Paragraphs about Popular Hispanic Artists/Singers in Spanish
*Intermediate/Advanced Questions in Spanish about Popular Hispanic Singers with Answer Key
*Countries, Capitals, and Nationalities Practice Map with Answer Key
*Countries, Capitals, and Nationalities Map Test with Answer Key
*Student Song Evaluation Activity in Spanish (Mini-writing activity)
*Hispanic Music Artists Reading Activities (one in Spanish and one in English) with Answer Keys
~ Popular Songs in Spanish with Lyrics and Cloze Activities
*"Dímelo" by Enrique Iglesias
*"No Importa la Distancia" by Ricky Martin
*"No Me Ames" by Marc Anthony and Jennifer Lopez
*"Waka Waka (Esto Es África)" by Shakira
*"¿Qué Hiciste?" by Jennifer Lopez
~ Online Activities to Practice Spanish-Speaking Countries, Capitals, and Nationalities - Quizlet activities
~ 31 slide power point introducing Spanish-speaking countries, capitals, and nationalities - which is an excellent introduction and review for all classes. The Google Slides presentation is also now included!
This power point is also sold individually at our store:
Spanish-Speaking Countries Power Point
This is the perfect no-prep resource for Middle School Spanish, Spanish 1, Spanish 2, Spanish 3 and Spanish 4!
Teachers Like You Are Saying:
⭐⭐⭐⭐⭐ I loved this resource as well as my students! This was made so well with so many details. I used this in a Spanish culture class and plan to use some of the material for a backup sub lesson plan. Well worth the money!!
⭐⭐⭐⭐⭐ Thanks for a wonderful cultural resource! Many of the activities worked well when I had a sub.
⭐⭐⭐⭐⭐ This is my first year teaching Spanish Language and Culture. The art teacher and myself (music teacher) co-teach it. This packet is very engaging. The Power point presentation introduces the countries and capitals and all the follow up work around that is differentiated and practical. The students connect to the content by learning about singers and songs they like. The T-Shirt project is fun. Overall, I think it is a great deal for the money and I am very satisfied.
Additional Spanish-Speaking Countries Resources for Your Spanish Classroom:
Livin' La Vida Latina - Fun Facts about Spanish-Speaking Countries in English
Spanish Music & Latinx Artist Unit - Bulletin Boards, Lessons & Presentation
Livin' La Vida Latina - Fun Facts Loteria Game in Spanish
For additional high quality Back to School resources, please visit BACK TO SCHOOL
Let's connect! We would love to hear from you!
Have a great school year!
Report this resource to TPT