Spanish Stem-Changing Verbs PowerPoint and Interactive Notebook Activity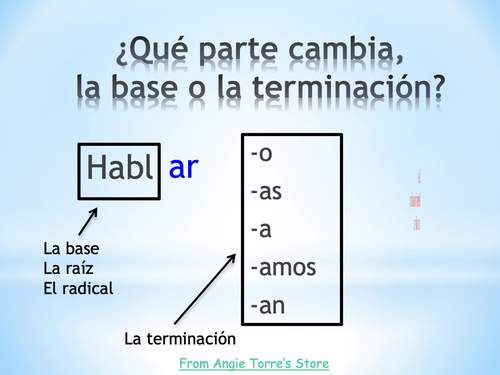 ;
Description
This 115-slide Spanish Stem-Changing Verbs PowerPoint and Interactive Notebook Activities are a complete lesson on Spanish Stem-Changing Verbs in Spanish. Digital versions included for distance learning and Google Classroom.
Click on the following link to see the entire preview: Stem-changing Verbs PowerPoint
This product includes the following resources:
~A comparison of regular verb conjugations to stem-changing verbs
~an explanation of which syllable changes and a check for understanding
~E-IE verbs with engaging pictures and language in context and frequent checking for understanding of the meaning of the verbs
~practice with "pensar en, pensar que, pensar de and pensar +infinitivo"
~a brief introduction of reflexive stem-changing verbs and a check for understanding so that students can have high-frequency verbs in their repertoire
~O-UE stem-changing verbs
~E-I stem-changing verbs
~U-UE (jugar) stem-changing verb and practice questions with jugar
~a comparison of "pedir" and "perder" as students tend to confuse them and a check for understanding
~a comparison of volver and devolver and a check for understanding
~conjugation practice
~a closure activity in which students write complete sentences in Spanish using the stem-changing verbs
~a bell practice in which students find the error of the ridiculous sentence and write a logical sentence using the stem-changing verbs
~a comparison between the verbs, "pedir" and "preguntar"
~examples with comprehensible input and check for understanding and practice
~questions with "pedir" and "preguntar".
Also included are:
~Student Handout with conjugations of the stem-changing verbs & explanation of the verb "pensar" and how to use it.
~Interactive Flip Book with cloze sentences
~Interactive Notebook Activity in which students practice the use of "pensar en; pensar que; pensar + infinitivo; pensar de"
~Google compatible digital versions of all resources for distance learning and use in Google Classroom and other Google platforms
The verbs taught in this PowerPoint Los verbos que cambian en la raíz are the following:
(o-u) jugar
preferir
cerrar
querer
cerrar
perder
empezar
comenzar
pensar
entender
sentirse
sentarse
divertirse
poder
recordar
morir
devolver
encontrar
volar
contar
dormir
llover
volver
almorzar
(e-i) pedir
seguir
servir
repetir
Spanish Grammar
To receive freebies and notifications of new products, click HERE to follow my store!
OTHER PRODUCTS THAT MAY INTEREST YOU:
******************************************************************************************************************************
Stem-Changing Verbs for Spanish Three
Stem-changing Verbs Interactive PowerPoint Game
Spanish Stem-changing Verbs Video
For more ideas and resources, please visit my website and blog: Best PowerPoints for Spanish
For Spanish jokes, memes, TPR Stories, videos and tons of resources, connect with me on Pinterest: Best PowerPoints Pinterest
OR for a complete list of my products, JUST CLICK HERE: My Store
PowerPoint of Stem-Changing Verbs by Angie Torre is licensed under a Creative Commons Attribution-NonCommercial 3.0 Unported License.
Report this resource to TPT