Spanish Stem-Changing Verbs TPR Story Distance Learning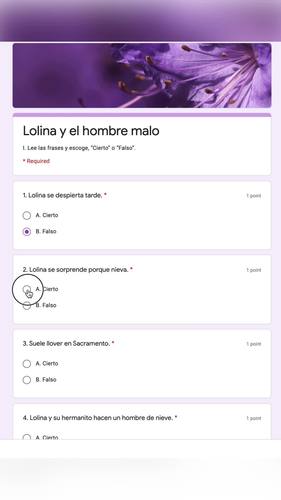 ;
Description
This Spanish TPR Story is about a girl who begins her day by making a snow man and ends up defending herself against an intruder. The story contains many stem-changing verbs and recycles them in the practice activities to provide the necessary repetition in context. Google Slides and self-correcting, editable Google Forms digital versions are included for distance learning and Google Classroom.
This Stem-Changing Verbs TPR Story contains the following:
Vocabulary for TPR pre-teaching
Spanish TPR Story using stem-changing verbs
Answer the Questions Comprehension Activity
Cloze Activity in which students write the missing stem-changing verbs in the blanks.
Google Slides digital version for distance learning
Autocorrecting Google Forms version of Cierto / Falso and Contesta las preguntas
Student handout with conjugations and demonstration of how to use the verb "pensar" with different prepositions
Student handout with 44 stem-changing verbs with their definition and use in context. For example: Cerrar – to close. Ella cierra la puerta porque hace frío. (e–ie)
*****************************************************************************************************************************
OTHER PRODUCTS THAT MAY INTEREST YOU:
For this story and five others for Spanish Three, click here: Spanish Three TPRS
Spanish Stem-Changing Verbs PowerPoint
Spanish Three Stem-Changing Verbs PowerPoint
To receive freebies and notifications of new products, click HERE to follow my store!
For more engaging PowerPoints, other TPR Stories and a complete list of my products, CLICK HERE: My Store
For more engaging resources, PowerPoints and ideas about how to engage students, please visit my website and blog: Best PowerPoints for Spanish
For Spanish jokes, memes, TPR Stories, videos, and tons of resources, connect with me on Pinterest:Best PowerPoints Pinterest
Stem-Changing Verbs TPR Story by Angie Torre is licensed under a Creative Commons Attribution 3.0 Unported License.
Report this resource to TPT