Spanish Valentine's Day Vocabulary Boom Cards Día de San Valentin No-Prep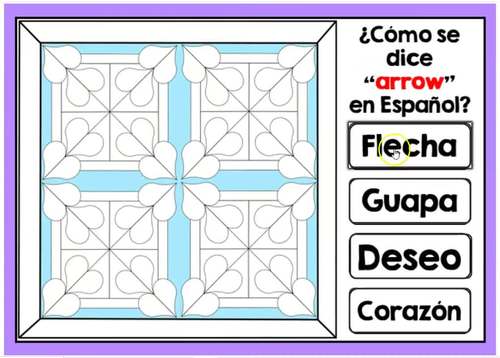 ;
Compatible with Digital Devices
The Teacher-Author has indicated that this resource can be used for device-based learning.
Also included in
Need a fun, easy set of activities to practice Spanish while celebrating Valentine's Day? With this bundle, kids can play bingo, make cards, and do 8 different color by numbers!Bundle includes:❤️ No Prep Spanish Valentine's Day Card Activity | Día de San Valentín❤️ Spanish Valentine's Day Lotería Bing

Price $16.00

Original Price $20.00

Save $4.00

Practicing Spanish is much more fun when kids can incorporate Valentine's Day (el Día de San Valentin) into the activities! This set of 2 digital products - a Google Sheets hidden picture pixel activity and Boom Card deck - makes learning vocabulary fun! Learn Spanish words for Valentine's Day items

Price $6.30

Original Price $7.00

Save $0.70
Description
Need a fun way to learn or practice Spanish vocabulary for Valentine's Day? These cards will help reinforce the Spanish words related to el día de San Valentín. This fun, uncover the activity that progressively colors in the image will keep kids engaged and excited to learn!
Watch the video by clicking the play button above to see this resource in action!
All of the hard work is done for you. You can simply assign this activity via Google Classroom or other platforms and it is ready to go. Even better, this resource includes a vocabulary guide that you can choose to allow students to see, or hide if you would like the task to be more difficult.
So what's a Boom card anyway? IT'S A DIGITAL TASK CARD!
Are you trying to go 1:1 in your classroom? Do you have devices, but not always sure how to keep your students or kids at home engaged with relevant material? Well, you can stop looking! BOOM Cards are not only cool, the best part is that you don't have to do a thing! Cards are randomized automatically, so each time the game is played it will be in a different order! When the student picks an answer, it either circles it green and says "Correct", or circles it red and says "Wrong Answer". It automatically goes to the next slide, in addition to many other cool features!

TRY BEFORE YOU BUY! Click on the preview and you will be able to play 4 slides before you purchase.

Please READ BELOW to understand how Boom Cards work! This purchase will give you a PDF that will lead you to the Boom Learning platform. ⭐THIS IS A DIGITAL RESOURCE, PLEASE TAKE THE TIME TO READ BELOW ABOUT THIS PRODUCT AND CLICK ON THE PREVIEW TO SEE IF THIS IS SOMETHING THAT WILL WORK FOR YOU!⭐

WHAT IS NEEDED:
To use Boom Cards, you MUST be connected to the Internet. Boom Cards play on modern browsers (Chrome, Safari, Firefox, and Edge). Apps are available for Android, iPads, iPhones, and Kindle Fires. For security and privacy, adults must have a Boom Learning account to use and assign Boom Cards. You will be able to assign the Boom Cards you are buying with "Fast Pins," (play provides instant feedback for self-grading Boom Cards). Fast Play is always a free way for students to engage with Boom Cards decks. For additional assignment options, you'll need a premium account. If you are new to Boom Learning, you will be offered a free trial of our premium account. Read here for details: http://bit.ly/BoomTrial.

You may be eligible for a free trial from Boom Learning. Read here for details: http://bit.ly/BoomTrial. If you choose not to stay on a premium account after your free trial, you will still be able to assign all your Boom Cards to as many students as you see fit using Fast Play pins (which give instant feedback for decks that are self-grading).

QUESTIONS OR CONCERNS
Email me at fabulousclassroom@gmail.com if you have any questions or concerns about this product. If you are not sure that this product will work for you, please check out the preview as it will show you what the game will look like.

Also, be sure to follow me to be notified when new products are uploaded. New products are always 50% off for the first 24 hours they are posted. You'll be the first to know about new products and sales, so it definitely pays to follow me!

You may also like:
❤️ Spanish Valentine's Day Activity Bundle | Bingo, Cards, Color by Number
❤️ Spanish Valentine's Day Activity | día de San Valentín Google Apps
❤️ Spanish Valentine's Day Bingo Lotería No Prep | Día de San Valentín Printable
❤️ Spanish Valentine's Day Card Activity | Día de San Valentín Printable No Prep
❤️ Spanish Valentine's Day Color by Number | Día de San Valentín No Prep Printable
❤️ Spanish Valentine's Day Freebie! No Prep Color by Number | Día de San Valentín
Don't forget that leaving feedback earns you points toward FREE TPT purchases! As always, please contact me with any questions or issues you may have!

Thanks so much!
Marcy Turner ❤️
Fabulous Classroom
Report this resource to TPT