Spanish Verb Ser Video and Activities Distance Learning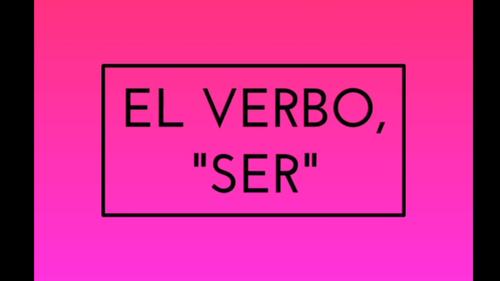 ;
2 documents, 3 slides, 1 video
Also included in
★ Save 25% by buying all my Spanish TPR Stories and comprehensible input in one bundle. They include illustrated TPR Story PowerPoints, dialogues, puppet shows, videos, readings, cloze activities, and comprehension activities.Click here to see a video of how to tell a story using TPR Story-Telling

Price $62.00

Original Price $75.50

Save $13.50

I get 100% student engagement when I show these videos! In this bundle are 41 kid-tested Spanish Videos for students that provide Comprehensible Input for all levels from beginners to advanced: Spanish 1, 2, 3, and 4.What's better comprehensible input than conversation with a native speaker? Spanis

Price $98.30

Original Price $144.29

Save $45.99

Having trouble finding authentic Spanish videos for beginners that students can understand? These Spanish One videos provide great comprehensible input because students not only HEAR the words but see them written. Actors are native speakers and speak naturally, but slowly enough for students to un

Price $32.42

Original Price $44.90

Save $12.48

Writing lesson plans is the most difficult, time-consuming part of a teacher's day. These yearlong Spanish 1 Lesson Plans and Curriculum do everything for you and serve as a complete Spanish 1 textbook with ancillary materials, no-prep lessons, and all resources needed to teach upper elementary, mid

Price $365.00

Original Price $515.47

Save $150.47

Save over 25%! If you would like to test-drive the Todos Preparados full-year Spanish 1 and 2 curriculum and lesson plans before buying the year-long bundle, purchase the first two weeks of Spanish One Lesson Plans and Curriculum or other Topical Lessons. NO TEXTBOOK NEEDED! However, you may use th

Price $687.00

Original Price $819.85

Save $132.85

These No-prep Spanish Lesson Plans and Curriculum include the textbook, the lesson plans, and every resource needed to teach Spanish One, Two, and Three.Spanish 1, 2, and 3 curriculum is kid-tested and refined during 30 years of teaching. Lesson plans include comprehensible input, TPR Stories, video

Price $996.00

Original Price $1184.85

Save $188.85

31 videos providing comprehensible input for the vocabulary and concepts in Spanish 1 and 2 with native speakers and Spanish subtitlesWhat's better comprehensible input than conversation with a native speaker? Videos of native speakers with Spanish subtitles AND overlaid visuals and animation to aid

Price $89.45

Original Price $101.24

Save $11.79

Spanish One, Two, Three and AP Lesson Plans are aligned with National Standards (World Readiness Standards for Learning Languages - The 5 Cs: Communication, Cultures, Connections, Comparisons, and Communities), the ACTFL Proficiency Guidelines and Can-Do Statements, and the California World Language

Price $1179.00

Original Price $1402.35

Save $223.35

Spanish One, Two and Three Lesson Plans are aligned with National Standards (World Readiness Standards for Learning Languages - The 5 Cs: Communication, Cultures, Connections, Comparisons, and Communities), the ACTFL Proficiency Guidelines and Can-Do Statements, and the California World Language Con

Price $1250.00

Original Price $1447.60

Save $197.60

The Todos preparados No-prep Lesson Plans and Curriculum include the textbook, the lesson plans, and every resource needed to teach Spanish One, Two, Three, and *Four. Teach, correct, and go home! These full-year lesson plans are aligned with National Standards (World-Readiness Standards for Learnin

Price $1222.00

Original Price $1441.75

Save $219.75

The Todos preparados year-long Spanish curriculum and lesson plans do everything for you. Teach, correct, and go home. Spanish One, Two, Three, *Four, and AP Lesson Plans and Curriculum are aligned with National Standards (World-Readiness Standards for Learning Languages - The 5 Cs: Communication, C

Price $1435.00

Original Price $1712.60

Save $277.60

These full-year lesson plans do everything for you. Teach, correct, and go home. Spanish One, Two, Three, *Four, and AP Lesson Plans are aligned with National Standards (World-Readiness Standards for Learning Languages - The 5 Cs: Communication, Cultures, Connections, Comparisons, and Communities),

Price $1435.00

Original Price $1768.39

Save $333.39

These lesson plans are aligned with National Standards (World Readiness Standards for Learning Languages - The 5 Cs: Communication, Cultures, Connections, Comparisons, and Communities), the ACTFL Proficiency Guidelines and Can-Do Statements, and the California World Language Content Standards.NO TEX

Price $380.80

Original Price $754.51

Save $373.71
Description
El verbo Ser Video and Activities: Video in which Jessica, Melanie, Óscar, and Isaías talk to each other using the verb, "ser" and personal pronouns multiple times in context. Practice worksheets and digital versions are included for distance learning.
What's better comprehensible input than conversation with a native speaker? Videos of native speakers with Spanish subtitles AND overlaid visuals and animation to aid in comprehension, with music and corresponding activities for recycling and repetition of vocabulary and concepts.
Click here to see a preview of the video: Ser Preview
Spanish Verb SER Video includes the following resources:
53-second video of Jessica, Melanie, Óscar, and Isaías talking to each other and using the verb, "ser" in context.
Script with repetition of the Spanish irregular verb "ser" and subject pronouns, "yo, tú, nosotros, ellos"
Listening cloze activity in which students fill in the missing forms of SER
Activity in which students answer comprehension questions about the video
Student handout on the verb, "Ser" and subject pronouns, "Yo, tú, él, ella, usted, nosotros, vosotros, ellos, ellas," showing the conjugations, use in context, and questions and answers: ¿Quién es alto? – Who is tall? Beto es alto. ¿Quiénes son altos? – Who (plural) is tall? Beto y Pedro son altos. ¿Eres (tú) maestro? No, yo no soy maestro.
Google Slides digital versions for use in Google Classroom, other Google and digital platforms, and distance learning
This video is included in the following money-saving bundle: Videos Bundle for Spanish 1, 2, 3, and 4
To receive free resources, discounts, and notifications of new products, click on the following link to follow my store: ANGIE TORRE
_____________________________________________________________________________________________________
OTHER PRODUCTS THAT MAY INTEREST YOU:
Total Pages
2 documents, 3 slides, 1 video
Teaching Duration
30 minutes
Report this resource to TPT