Spanish Videos for Comprehensible Input Bundle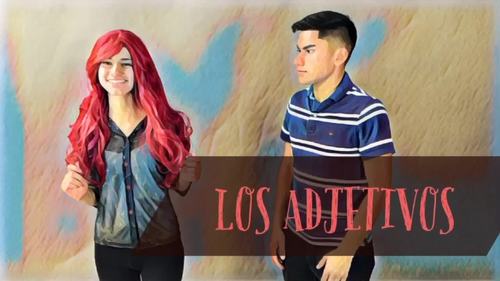 ;
Products in this Bundle (33)
showing 1-5 of 33 products
Also included in
These full-year lesson plans do everything for you. Teach, correct, and go home. Spanish One, Two, Three, *Four, and AP Lesson Plans are aligned with National Standards (World-Readiness Standards for Learning Languages - The 5 Cs: Communication, Cultures, Connections, Comparisons, and Communities),

Price $1435.00

Original Price $1768.39

Save $333.39
Description
I get 100% student engagement when I show these videos! In this bundle are 41 kid-tested Spanish Videos for students that provide Comprehensible Input for all levels from beginners to advanced: Spanish 1, 2, 3, and 4.
What's better comprehensible input than conversation with a native speaker? Spanish videos of native speakers with Spanish subtitles AND overlaid visuals and animation to aid in comprehension, with music and corresponding activities for recycling and repetition of vocabulary and concepts.
Digital versions of the corresponding comprehension activities are included for 1:1 classrooms and distance learning.
To see a longer preview of these videos, click here: Spanish Videos for Spanish 1-4
★YOU SAVE 25% if you buy the videos in a bundle!
 ✅ All of my videos for Spanish 1-4. These Spanish videos include comprehensible input for the following 41 videos:
SPANISH VIDEOS FOR BEGINNERS OR SPANISH ONE
~La hora y las clases Spanish Video
~Los adjetivos Posesivos Video
~Spanish Gustar Video Puppet Shows FOUR VIDEOS
SPANISH VIDEOS FOR STUDENTS IN SPANISH TWO
~Present Progressive (el presente progresivo)
~Object Pronouns (los complementos directos e indirectos)
~Spanish Reflexive Verbs Puppet Shows TWO VIDEOS
~Spanish Body and Health Video
FOR SPANISH THREE AND FOUR
~Spanish Video for the Imperfect Tense THREE VIDEOS
~Preterite and Imperfect EIGHT VIDEOS
~Future Tense (el futuro)
~Spanish Video for the Conditional Tense (el condicional)
~Present Perfect (el presente perfecto)
~Spanish Video for the Present Subjunctive with Implied Commands (el subjuntivo)
~Subjunctive- Las cláusulas adjetivales
Day of the Dead / El Día de los Muertos
~Video of Teresa describing how they celebrate Day of the Dead in Equatorial Guinea and activity in which students answer the questions about the video
~Video of Eduardo talking about Day of the Dead in Colombia from the perspective of his Christian beliefs, Cloze activity in which students fill in the missing words, and activity in which students answer the questions about the video
~Video of different Eduardo talking about how he celebrated Day of the Dead in Mexico and how he practices it today, his Christian beliefs, Cloze activity in which students fill in the missing words, and activity in which students answer the questions about the video
~Spanish House and Furniture Interactive Video and Activities
Also included are the following resources
~Script and vocabulary
~Practice activities for comprehensible input
~Student handouts
~PowerPoint answers
★THESE SPANISH VIDEOS WILL BE SHARED VIA DROPBOX OR WETRANSFER
You may also be interested in: Spanish TPRS and Comprehensible Input for 1-AP
To receive freebies and notifications of new products, click on the following link to follow my store: ANGIE TORRE
Teaching Duration
Lifelong tool
Report this resource to TPT