Spanish Who Am I? Famous People Task Cards & Game Unit - ¿Quién soy yo?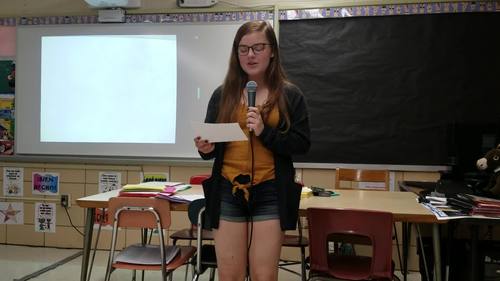 ;
Description
Do you need a fun no-prep way to assess students in your Spanish classes? This 25 page EDITABLE Famous People Game Unit is a FUN and creative way to assess students' reading, writing, speaking, and listening skills! This lesson will increase student participation and is a great way to incorporate culture into your lessons. This activity is a fun Who am I? activity that your students will enjoy.
This Famous Person Who am I? activity can be used in several ways will all levels of Spanish 2, Spanish 3, Spanish 4, AP Spanish and IB Spanish.
You can use any of the 38 pre-made task cards as daily warm-ups, brain breaks or listening practices or assessments. Or, you can use them as reading practice for students or as an around-the-room guessing game. Watch the video above to see one of our Spanish Two students reading her Who am I? composition! Can you figure out who it is? :0) Spanish speaking game
This Famous People Task Cards and Games Unit includes:
~ Teacher suggestions for various ways to incorporate this activity in your classes
~ Who am I? Composition student instructions in Spanish
~ Student guesses fill-in sheet in Spanish
~ Who am I? Famous People descriptions in Spanish with answers included for the following famous people:
César Chávez, Wini Pu, Ferdinand, Big Bird, Dr. Seuss, Martin Luther King Jr., Scooby Doo, Kylie Jenner, Mujer Maravilla, Wonder Woman, Abraham Lincoln, Queen Elizabeth, Aerial – La Sirenita, Papa Francisco, Pope Francis, Ellen DeGeneres, Shrek, Michael Jackson, Bill Nye the Science Guy, Lin-Manuel Miranda, Hombre Araña, Spider Man, Dory, Beyoncé, Doctor Felipe, Doctor Phil, Kayne West, Selena Gómez, Michael Jordan, Mickey Mouse, LeBron James, Barack Obama, Oprah, Elvis Presley, Jesus, and George Washington
Teachers Like You Are Saying:
⭐⭐⭐⭐⭐ Your task cards are THE BEST!
⭐⭐⭐⭐⭐ ¡Fantástico, muchas gracias!
Click below for AWESOME grammar, vocabulary and AP Spanish resources!
Spark Enthusiasm Spanish Grammar, Vocabulary and AP Spanish resources
ALL of our movie packets with tons of resources are here!
ALL sparkenthusiasm movie guides
Let's connect! We would love to hear from you!
Have a great school year!
Report this resource to TPT