Spanish spelling bundle El Dictado Trifecta Paquete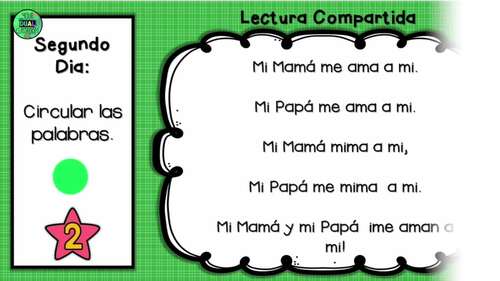 ;
Google Drive™ folder
Includes Google Apps™
This bundle contains one or more resources with Google apps (e.g. docs, slides, etc.).
Products in this Bundle (11)
showing 1-5 of 11 products
Description
Do you need engaging resources so that you can teach reading and writing in Spanish in your Bilingual or Dual Language Kinder or First Grade class without the weekly scramble for more resources? This Bundle has projectable Dictados with 5-day embedded plans, projectable and printable shared reading activities, Lecturitas that go right along with the Dictado you are working on, PLUS when you download you will receive printable vocabulary cards with syllable cards to go with them and other print-and-go activities. Kids will love the activities, and you will love that they are reading!! Keep them practicing their new skills with the follow up Lecturitas! This trifecta has helped my class over and over with their reading and writing skills in Spanish!
---
Included in this all-SPANISH set are:
El Dictado, projectable
5-day embedded plan
2 differentiated levels
+Visuals to show young students how to put a finger between their words as they write, along with punctuation visuals.
Lectura Compartida, projectable
5-day plan, also embedded in the projectable piece
Interactive pieces
Printable shared reading so that you can write it up on an anchor chart and hand it out to your entire class
Lecturitas, projectable
Illustrated sentences using words with syllables presented in the dictado
All in PPT that is super easy to upload to your Google Drive
Depending on the Dictado, you will receive a
vocab cards printable on both sides to couple with syllable boxes of the same words
8.5 x 11 sheets of illustrated vowels to enhance your anchor charts. (The images for the vowels match the "Estrellita" program.)
8x11 sheets with 4 cards per sheet illustrating syllables highlighted in particular dictados (i.e. ge/gi, ce/ci etc.) so that you can use them for Spanish Word Walls or to enhance your anchor charts.
color coded cards for anchor charts with the diphthongs and other advanced syllables
print-and-go practice sheets
Need engaging Google Drive readers in Spanish? Click here. And here!
Follow Me!
Follow me by clicking the green star at the top my store and be notified of new products that I upload. New products are always 50% off for the first 24 hours that they are posted! It pays to follow me!
Leaving earns you points towards FREE TPT purchases! I love to read feedback! Once you purchase one of my products, go to 'my purchases' and click on to leave feedback
Please contact me with any questions.
Thank you so much,
Judy Hill de Gonzalez
Report this resource to TPT